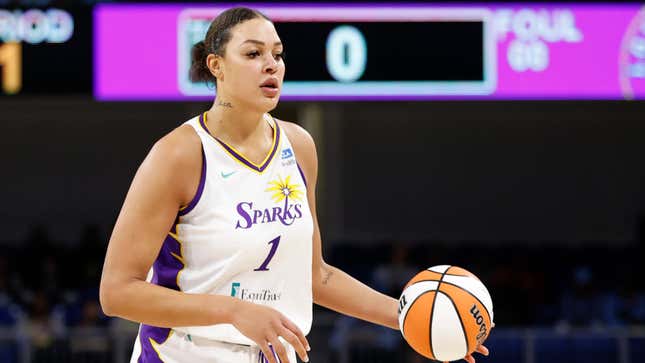 In 2021, Liz Cambage withdrew from the Tokyo Olympics after a reported physical and verbal exchange took place during a scrimmage against Nigeria. Cambage was accused of calling the Nigerian players "monkeys," which she vehemently denies.
White Men Can't Jump Stars Teyana Taylor & Sinqua Walls Play "My Favorite Things"
During an interview on Monday with Bleacher Report, the former WNBA star once again insisted she never used the racial slur. When the heated altercation took place, Cambage was representing Australia at the time. She was also accused of telling the Nigerian athletes to "go back to your third-world country."
"A lot of girls don't like me," Cambage said in the interview. "I don't really lean towards racially backed insults. That's not how I go. I'm very pro-Black. I did not say this to these girls." However, Cambage did admit to once stating, "We should all go back to our countries," because she was unhappy during her time in Tokyo.
Cambage also insisted there is video footage from the scrimmage that proves she didn't say any slurs. The 31-year-old athlete has a Nigerian father and expressed interest in playing with Nigeria at the Paris Olympics.
"Why does Nigeria want me to leave Australia and go represent them? We're filing for me to leave the Australian team so I can represent Nigeria," Cambage claimed. "I've been in cahoots, I've been talking with them since all of this happened."
However, Nigeria women's basketball team player Promise Amukamara wrote on Twitter that Cambage's words were untrue. She also stated: "She called us Monkeys & told us to go back to our country. Yes she said that! Literally everyone from both teams have the same story BUT her, so y'all do the math!"
Amukamara added that "the only person [Cambage] has been in "cahoots" w/ was the former coach of our National team & he's no longer the coach, so there's that!" It has been reported that Cambage has officially signed with Maccabi Bnot Ashdod in Israel.