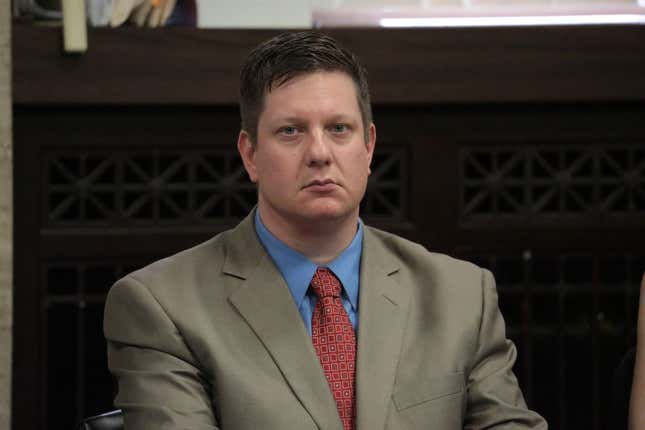 Jason Van Dyke, the former Chicago police officer who fatally shot 17-year-old Laquan McDonald in 2014 will not face any federal charges, according to a press release from the U.S. Attorney's Office in Chicago.
My Hip-Hop Story: Cedric The Entertainer On Jay-Z and His Indisputable Role In Shaping The Genre's Culture
Three years ago in January 2019, Van Dyke was convicted of second-degree murder and 16 counts of aggravated assault for the shooting of McDonald and sentenced to six years and 9 months in prison. The 16 counts of aggravated assault were for each bullet Van Dyke shot into McDonald while he was laying on the ground.
But earlier this year, while the family of McDonald demanded federal charges against the former cop, Van Dyke was released just days later on Feb. 3, serving less than half of his full sentence.
According to the press release, the decision to not pursue federal charges was made by prosecutors after consulting with the McDonald family and they were "in agreement not to pursue a second prosecution."
Attempting to prosecute Van Dyke on federal charges would have been much more challenging than prosecuting him in state court because the burden of proof is a lot higher.
From the press release:
Federal prosecutors would need to prove to a jury beyond a reasonable doubt that Mr. Van Dyke willfully deprived Mr. McDonald of a constitutional right. To do that, prosecutors would have to prove not only that Mr. Van Dyke acted with the deliberate and specific intent to do something the law forbids, but also that his actions were not the result of mistake, fear, negligence, or bad judgment. It requires federal prosecutors to prove beyond a reasonable doubt what Mr. Van Dyke was thinking when he used deadly force, and that he knew such force was excessive. The federal law presents a very high bar – more stringent than the state charges on which Mr. Van Dyke was convicted.