About three years ago Amethyst Amelia Kelly, aka Iggy Azalea, was being touted as the next big thing for hip-hop. Some of the hype surrounding her had very little to do with her flow, but with the fact that she was a white woman from Australia. Like many up-and-coming rappers, Iggy had one person in particular whom she idolized. Iggy had dreams of being the next Tupac. In an old interview, she spoke of how she idolized the rapper and styled herself after him.
Fast forward three years and one new album later, Iggy is now being touted by Forbes as "one of hip-hop's most exciting new artists" in the article "Hip-Hop Is Run by a White, Blonde, Australian Woman," and seems to style herself after Nicki Minaj.
Earlier this month, Iggy's album, The New Classic, became the highest-charting debut album by a female rapper since Nicki Minaj back in 2010. So there's no denying that Iggy can move units. But now that hip-hop finally has its "great white hype" female rapper, maybe the accolades are a little bit premature.
One could make the point that the marketing of Iggy as a sex symbol could have a lot to do with her rise to fame. Would seeing a woman rap in Air Force 1s and dressed like her idol Tupac appeal to the masses? Or are leotards and booty shorts an easier way to sell music?
And let's also talk about this accent and Iggy's rap cadence. So you speak with an Australian accent, but then you rap like you're a chick born and raised in Atlanta? Excuse me if I don't find the "blaccent" authentic. If I wanted to listen to someone who sounds like Charli Baltimore or Nicki Minaj, I'd run out and buy their music.
G/O Media may get a commission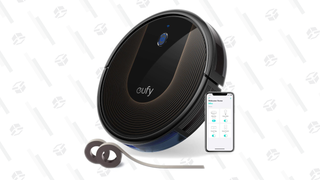 48% Off
Eufy BoostIQ RoboVac
I'm not the only one who's not singing the praises of Iggy like Forbes, especially on social media:
I understand that Forbes magazine may not be in the "know" when it comes to anything outside of financial and business issues, but before handing out crowns and accolades prematurely, how about we just make sure that someone isn't a one-hit wonder first. I mean, you see what happened to Vanilla Ice. 
Update: Yesterday evening, Forbes updated the title of their original post and renamed it, "Hip-Hop's Unlikely New Star: A White, Blonde, Australian Woman". Along with the new title, an apology was also issued, "The title of this article has been changed from its original version — "Hip Hop Is Run By A White, Blonde, Australian Woman" — because it did not accurately reflect the content of the piece. The author offers sincere apologies to anyone who was offended by it."
Yesha Callahan is editor of The Grapevine and a staff writer at The Root. Follow her on Twitter.