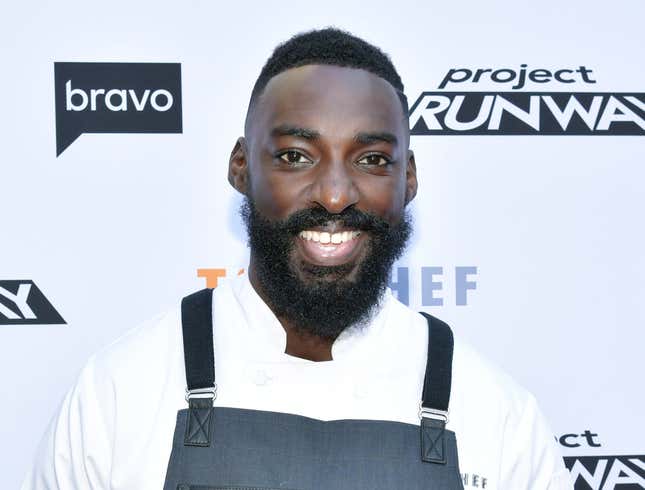 If you're a fan of food competition shows, then you're probably a fan of Chef Eric Adjepong. In addition to being a finalist on Top Chef Season 16, he's also known for his appearances on multiple Food Network shows, including Alex vs America. The series stars Iron Chef Alex Guarnaschelli competing against three chefs who specialize in specific techniques or proteins. Adjepong hosts and judges on the show, often guiding the competitors through each round. He spoke with The Root about his approach to judging and representing his West African culture through his food.

Next Level Chef Judge, Chef Nyesha Arrington, Plays That's So Random
The format of the series allows the chefs to pick timing, ingredients and equipment. Guarnaschelli is a successful chef and competitor, so there's not much she hasn't seen. She's very hard to beat. Though the chefs don't always take it, he offers helpful advice about Alex and the competition.
"As a competitor, it's easier for me to put myself in the chefs' shoes when they're up against Alex. They're in the big stage and the bright lights, they have all these options in front of them. Believe it or not, you can trip over yourself. You can really make a very remedial, almost elementary mistake by either giving her more time or picking something that's out of your wheelhouse," Adjepong told The Root. "I'm always encouraging chefs to just cook the food that got you here, and don't deviate from the plan. Sometimes—especially when they have the other two chefs next to them—it becomes this crazy war room of suggestions and opinions. I'm just over there trying to stay the course."
Since he's an experienced competitor in his own right, Adjepong can understand what the chefs are going through in the heat of the moment. No matter how bad the finished product is, he tries to keep that understanding in mind when he's judging. He's never going to tell someone that their food was terrible, because he knows there's more to the story.
"Not everybody is at their best at that moment. As talented as you are, sometimes it's just not yours and I never want to make a chef feel bad. Whether it was an intentional move, or they were just caught in the weeds and they didn't know what was going on, I never want to make them feel bad for cooking bad food," he said. "But I still hold the title of being a judge and have to give some sort of constructive criticism. You do that with the softest demeanor possible. You let them know that you're trying to find something good. It's not just saying things to say that there's usually something good about it. These chefs are highly skilled, so they're not just going to come out and wet the bed. They're really going to showcase something, whether it's a technique, whether it's plating, whether it's a combination of flavors, there's something to pull there on. Everything else, with respect to the challenge, let them know what the good, the bad and the ugly was."
From his time on Top Chef, through his appearances on Tournament of Champions and Chopped, the chef is known for prominently featuring his West African roots in his cooking. For Black fans, it's always exciting to see the cuisine of the diaspora showcased and celebrated on mainstream cooking shows. Adjepong doesn't know any other way to cook. These flavors and ingredients are a part of his life, so including them in his food is a natural approach.
"If it fits within the challenge, and it makes sense to do so, I'm going to try to find a way to put some sort of cultural spin or relevance. It's not because I like to do so for happenstance, but it's naturally within me," Adjepong said. "I say that if I was a musician or a painter, that West African culture within me would have definitely come out in some sort of fashion. It's my inherent palette. It's the way I see food, it's the way I season, it's my POV around cooking. A lot of that deals with how I grew up and the spices, its combinations and coming from the diaspora. That's the way I like to cook. There's so much flavor and there's so much history, that this amazing storytelling comes from that."
Alex vs America airs Sundays at 8 p.m. on Food Network and is also available on MAX, which launches May 23.