The NAACP Florida State Conference was right. As Bethune-Cookman University graduates loudly booed U.S. Education Secretary Betsy DeVos during her remarks at the school's commencement ceremony Wednesday morning, university President Edison Jackson threatened to withhold their degrees.
"If this behavior continues," Jackson said angrily as DeVos uncomfortably stood beside him with a smile frozen on her face, "your degrees will be mailed to you."
"Choose which way you want to go," Jackson warned.
The students ignored Jackson's threats and continued to boo DeVos. Some even stood with their backs to her, fists raised in the air as she continued her speech.
The Florida chapter of the NAACP anticipated Jackson's actions in a statement released Monday that called for his immediate resignation and that of Board Chairman Joe Petrock.
G/O Media may get a commission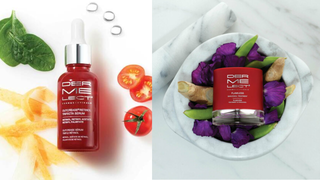 Save $19
Retinol Renewal Kit
"Since our initial public outcry last week, multiple allegations have surfaced including faculty intimidation demanding their silence or risk termination and threats to students by potentially withholding earned degrees and fines for freedom of expression," the statement read. "If these allegations are proven, this contrasts the public statements of university administration who opposes suppressing voices by welcoming U.S. Education Secretary DeVos but lends indirect support to these actions against faculty and students."

Many people with common sense questioned the choice of DeVos for commencement speaker, especially in light of her comments earlier this year when she referred to HBCUs as "pioneers" in school choice and said that they gave black students more options to pursue higher education.

With that being said, it is still entirely puzzling why anyone thought that not only inviting DeVos to the commencement ceremony but also honoring her would be a good idea. However, Jackson's attendance at a meeting with President Donald Trump in February, along with dozens of other HBCU leaders, may provide the answers.
"I truly believe that meaningful progress for our schools requires relationships," said Jackson in a statement published on Bethune-Cookman's website following the meeting. "HBCUs must have a voice in Washington. We must do all that we can to ensure the success of our colleges and universities. The meeting was productive and definitely a step in the right direction."
Clearly not.
In Monday's statement by the NAACP Florida State Conference, Adora Obi Nweze, president of the conference and member of the National Board of Directors, called the decision to invite DeVos a drastic fumble.
"With the recent comments of President Trump suggesting federal funding for HBCUs is unconstitutional, this validates our view of a horrible decision by the university inviting Secretary DeVos, who still has not pledged to drastically increase funding for all historically black colleges and universities. The university leadership has drastically fumbled and should resign," Nweze said.

Whatever the reason behind Jackson's decision to invite an enemy of HBCUs into the students' midst, I was entirely pleased with all the videos that came down the Twitter timeline showing them resisting.