A Florida man is facing first-degree murder charges after authorities say he threw his 7-year-old stepson against a wall and beat him to death at a local motel while forcing the child's siblings to participate in the brutal attack.
Beyoncé's Feminist Anthem "Run the World (Girls)" A Decade Later
Jack Junior Montgomery, 31, was being held at Florida's Hillsborough County Jail on $870,000 bond in the brutal beating death of 7-year-old Brice Russell., according to WFLA-TV.
According to WFTS-TV, the incident started early Saturday morning after an employee at the Master's Inn in Seffner, Fla., called authorities to report yelling in a room, which, the employee said, sounded like an adult man yelling at a child to "beat the kid" and "push the kid over here."
At around 1 a.m. Saturday, deputies from the Hillsborough County Sheriff's Office responded to conduct a welfare check, but a man, identifying himself as only "Jack," said that he had just been playing loudly. "Jack" told the deputy that he was in the motel room with "his children," opening the door just enough for the deputy to see kids in a bed toward the back of the room.
G/O Media may get a commission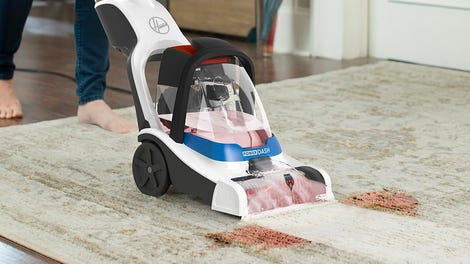 26% Off
Hoover PowerDash Pet Compact Carpet Cleaner
The deputy did not go further into the room and cleared the call, saying there was no further need to investigate, according to the arrest affidavit.
However, at around 10:50 a.m. that same Saturday, deputies were again called to the same hotel room, where a man was reporting that his stepson would not wake up.
WFLA reports that the family lived at the inn.
First responders found little Brice, noting that the child was cold to the touch and that rigor mortis had already set in. Brice was pronounced dead at 10:59 a.m.
The Sheriff's Office says that Montgomery was taking care of Brice and his three siblings while their mom, Donya Russell, was working a double shift, according to WFLA.
"While she was out working, he chose to not only physically discipline this child himself, by not only repeatedly punching and throwing him on the ground, but threatening bodily harm upon the two brothers if they did not partake and equally discipline him," Assistant State Attorney Matthew Smith told a judge in court.
The siblings told detectives that they woke up to Brice crying and saw Montgomery hitting the little boy and throwing him around the room, WFTS notes. The children said that the man threatened to beat them as well if they did not join him in beating up their brother. Deputies indicated that under fear of being hurt, one child did hit Brice.
The arrest report notes that the children saw Montgomery pick up Brice by the leg and throw him against a shelf on the wall. The children told detectives that they saw blood coming from their brother's nose and mouth, adding that he never woke up after that.
Authorities say that Montgomery admitted that he picked up the child and threw him onto the bed when he found him trying to sneak out of bed to get a cookie. Montgomery claimed that Brice hit his head on the headboard, but said the child was fine after that.
In their investigation, detectives determined that Montgomery punched Brice in his face, mouth and stomach with a closed fist, threw the child around the hotel room, and shoved his face into the carpet.
"[Montgomery] picked him up and flung him as described by the other brothers, helicopter across the hotel room into what's kind of a cabinet, where he hit headfirst. And ultimately caused his brain to bleed," Smith said. Brice would have died within seconds or minutes, according to the prosecutor.
"As if that was not aggravated enough, Mr. Montgomery took the child, put him in bed and had his siblings sleep with him while Brice was dead that entire night," Smith added.
The medical examiner's office ruled Brice's cause of death as homicidal violence.

Montgomery, who, according to WFLA, has a history of domestic violence and battery, is facing charges of first-degree murder as well as aggravated child abuse.
WFLA notes that he could be facing the death penalty in the case.