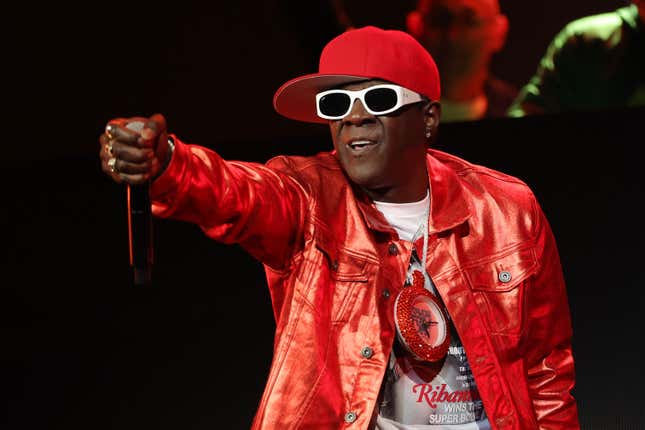 Here are two names you probably never thought you'd hear in the same sentence: Flavor Flav and Emily Dickinson. If you're scratching your head, I'll explain.
William Jonathan Drayton Jr. (I feel like we have to use his government name at least once in this story), a.k.a. Flavor Flav, stopped by the campus of Harvard University this week to make a guest appearance on Poetry in America. The PBS documentary-style series, created by Harvard professor Elisa New, brings poetry to the masses with the help of a diverse roster of celebrity guests, including Nas, Shaquille O'Neal and our saxophone-playing former president, Bill Clinton.
For this episode, the Public Enemy rapper and hype man sat down with songwriter Sam Hollander, Professor New, and her students to discuss Emily Dickinson's work. The group read three of her poems, "A Clock Stopped — Not The Mantel's," "Publication — is the Auction," and "I'm Nobody! Who are you?"
The group talked about the 19th Century poet, who was well-known for her unconventional style. They focused on her humor and creative rhyme scheme, a discussion which resonated with Flav, who as a member of the legendary rap group Public Enemy, is known for delivering powerful political messages in their music.
"The reason why I wear this clock is because every single second that the minute hand goes around, we have to use each second to the best value," Flav said. "Once we stop, it still keeps going anyway."
Flav joined the class at the suggestion of his manager, Harvard alumna Rhiannon Rae Ellis, who took New's class. "Flav's so intelligent," she said. "Most people don't get to see that side of him. They see the persona he is on TV … He's so happy and upbeat. It makes you want to be the best version of yourself."
New, professor emerita in Harvard's Department of English, said she finds enjoyment in the discussions, which bring people of diverse backgrounds together to share their perspectives.
"What's the most fun is seeing people who are not known as experts on poetry really dig in and get engaged," she said.