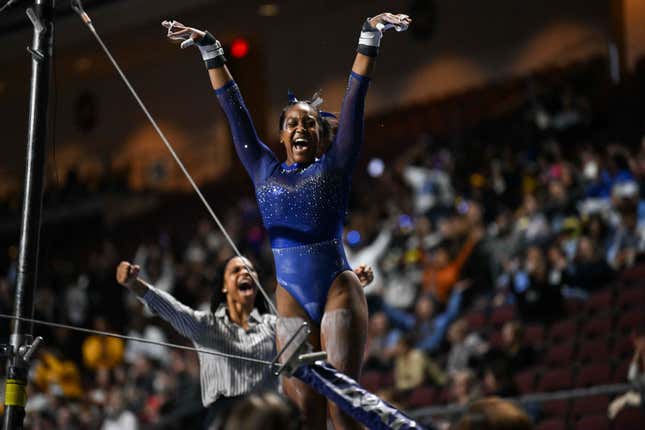 On Friday, January 6, 2023, Fisk University's gymnastics team, the first historically Black university gymnastics team, competed in their first meet. The team was competing at the NCAA level and traveled from Nashville, Tennessee to Las Vegas, Nevada to participate in the Super 16 invitational, the largest women's collegiate event with over 300 athletes from across the country.

Disney Channel's Saturdays Is Our Black TV Pick Of The Week
Fisk's 16-member team finished the competition in fourth place and had an overall score of 186.700. One of the Fisk Bulldogs, Morgan Price, stunned the audience with a 9.9 score in the vault, nearly perfectly sticking the landing. The Southern Utah Thunderbirds came in first place with a score of 195.800.
The Fisk Bulldogs are in excellent hands since their head coach Corrinne Tarver is a veteran in the gymnastics world as she was the first Black gymnast to win the NCAA All-Around championship in 1989 and was on the U.S. National Team from 1985-1986. She was also the first Black gymnast for the University of Georgia.
News of the first HBCU gymnastics team came out in February 2022. The announcement from the institution stated that the program was a reflection of the influx of student-athletes bringing their talents to HBCUs: "In recent years, the University has focused on increasing its athletic profile, considering the growing interest among student-athletes for an elite HBCU experience. With NBA legend Kenny Anderson and former Soccer star Desmond Armstrong as well as an outstanding woman's volleyball program under Coach Jessica Enderle, Fisk is poised to develop elite national programs."
Anderson, Armstrong, and Enderle are all Fisk coaches and former college and professional athletes, growing the school's sports departments. At this time, NFL star and then-head coach of Jackson State University football, Deion Sanders, was bringing mainstream support to HBCU sports, prompting more star athletes from every corner of the country to commit to an all-Black environment.
One rising star in the gymnastics world is Morgan Price, who placed seventh in the balance beam and eighth in the vault events at the Nastia Liukin Cup in 2022. The 5-star gymnastics recruit shockingly decommitted from SEC school, the University of Arkansas, in order to be on the historic Fisk team in 2022, showing that bringing sports and clubs to HBCUs can change the outlook on historically Black institutions not providing the same opportunities to students as predominantly white institutions.
Hopefully, this is only the beginning and we can see more historically Black colleges and universities bringing powerhouse Black gymnasts to the national forefront.