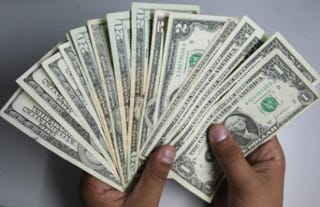 Spelman College sophomore Nakeita Danielle Steward didn't have many good examples of how to handle money when she was growing up.
"My father was in and out of our lives. My mother, a disabled veteran, struggled to make ends meet. She racked up a lot of debt," she said.
Nakeita, who majors in psychology and pre-law, is sitting on nearly $7,000 in credit card debt. She thinks those early lessons have had an impact on her financial situation today.
"For my 12th birthday, my mother gave me a credit card from JCPenney, but she never gave me guidance on how to pay it back and avoid getting into trouble," says Nakeita.
Starting today, Nakeita and other students at Spelman are going to get a crash course in untangling those old financial messages and recharting their financial future. Spelman and several other HBCUs are introducing a new program called Banking on Our Future: College Edition. The program will be offered to entering freshman and departing seniors this academic year through the Center for Leadership and Civic Engagement at Spelman. Nine additional HBCUs will offer it in 2009 including Morehouse College and Howard University. All 105 HBCUs are expected to have the program up and running within the next five years.
The six-hour curriculum, offered through a series of workshops, will focus on teaching students how to budget during a recession by helping them develop positive and healthy attitudes and beliefs about money, and learning how to handle many of the social pressures associated with spending. Students will also learn basic personal-finance skills, including lessons on setting and attaining personal-finance goals, as well as receiving important lessons on credit, loans and investing.
"The 'language of money' is often misunderstood among young people today and is so often overlooked as a critical piece to a strong education and foundation," said John Hope Bryant, chairman, founder and chief executive officer of Operation HOPE and vice chairman of the President's Advisory Council on Financial Literacy. "HBCUs are clearly addressing the needs of financial literacy for young adults and helping them to realize concrete goals for the future," he adds.
The reason I know so much about the program is because I created it. In working with the schools and Operation Hope, I wanted to make sure that we were not just teaching students about stocks, bonds and mortgages, but that we were turning them into savvy financial planners who understand how advertisers are targeting them.
By the time they finish, I hope they will understand that they pay higher interest rates and get lower quality financial products just because of the stereotype that minorities are financially illiterate—many in the financial-services industry literally bank on this. They will also understand that the deck has been stacked against them since they were very young, due to things like a lack of financial role models. They will learn how to move beyond the limiting perceptions that are locking them into their current financial experiences. It is these "non-financial" factors that are the real culprits in our money problems, but they are rarely addressed.
This program is one of the most significant initiatives to date aimed at breaking the devastating crisis of financial illiteracy in people of color. United for a Fair Economy estimates that we will lose $213 billion as a result of this crisis, the biggest loss of wealth in history.
Dr. Lewis Mandell, visiting professor of finance and business economics at the University of Washington and senior fellow for financial security at the Aspen Institute, commissioned a report that found that African Americans with family incomes above $80,000 had financial literacy scores that were 71.9 percent of whites. The lowest income African Americans had financial literacy scores that were 95.6 percent of whites in the same income group.
Hopefully, we can start to change those statistics, by educating students like Nakeita.
"My grandmother had 12 children. I am the first of her children and her children's children to go to college. It's up to me to be the role model they need when it comes to money," she told me.
Last year, Nakeita and a friend at Spelman created a nonprofit called ACTS that raises money in the community to help kids pay for things like school supplies, gives them career guidance and promotes community service. "The financial education piece was missing," she said. "Now I can share what I learn." 
You go girl! We're with you all the way!
Stacey Tisdale is a veteran on-air financial journalist. She's the author of "The True Cost of Happiness: The Real Story Behind Managing Your Money." She is also a board member of nonprofit financial literacy organization, Operation HOPE.