I have said it before and I will say it again: Black women are Donald Trump's kryptonite. There is not one group of people that seems to trigger the Trump administration more than black women, who are loud, proud and willing to call out his sheer incompetence, venality and existential danger to everything anyone hopes this country could actually be.
Trump already has the support of the majority of white Americans, and he can occasionally co-opt a wayward minority or publicity-seeking, sunken-place-dwelling, butter-biscuit-craving African-American man, but outside of Omarosa (whom I believe the black delegation dealt for Tim Wise a few months ago), Donald Trump the man, Donald Trump the administration and "Trumpism" itself haven't been able to bring black women to heel. Rep. Maxine Waters (D-Calif.), Susan Rice, April Ryan and Jemele Hill have all called out this administration, took the heat and won. Now we can add state Sen. Maria Chappelle-Nadal of Ferguson, Mo., to that list.

"I'm ALIVE! I'm ALIIIIIVE!" Chappelle-Nadal yelled into the phone, half laughing, when I called her for an interview. Chappelle-Nadal has been through the fire recently for some comments she made on Facebook about Trump. About a month ago, Chappelle-Nadal was in an exchange with a constituent on her personal Facebook page and said "I hope he gets assassinated" regarding Trump. She quickly deleted the post, but not before a screenshot of the exchange was taken and given to a local right-wing radio station.
Chappelle-Nadal was eventually called in for questioning by the Secret Service. They must investigate any discussion of violence against the sitting president of the United States. While the feds did not find her comments to be a credible threat to the president, other political leaders were not so forgiving. Missouri Lt. Gov. Mike Parson gave Chappelle-Nadal a deadline, telling her as president of the state Senate that if she did not resign from her Senate position, he would have her expelled by Sept. 15.
Parson was joined in this call by Gov. Eric Greitens, most other state Republicans and, of course, Democratic U.S. Sen. Claire McCaskill, whom many people see as a glorified Dixiecrat. Chappelle-Nadal's response? "Hell no!" And the community seemed to agree with her.
G/O Media may get a commission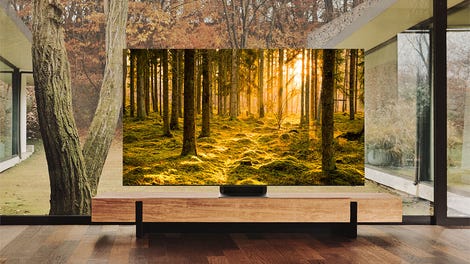 Up to 40% off
Samsung Smart TVs
"A lot of people have had something to say about what I did, which was wrong, by the way—I admit that," Chappelle-Nadal told The Root. "But I was reflecting the trauma of this entire community after Ferguson, and watching the president's response to the violence in Charlottesville[, Va.,] brought it all back. What I said was wrong, but we are all trauma victims."
Throughout the month of August heading up to the "expulsion vote," Chappelle-Nadal got support from some of the unlikeliest places.
"I've been so overwhelmed by the support out there in the community. The love I've been shown. It would take me an hour to get out of the grocery store; people kept coming up to me," she said. "[White] Evangelical Christians, too. That's what the strangest thing was. They had prayer circles for me in Springfield, pastors that drove two-and-a-half hours to my house to pray with me. Minority groups that aren't black came out for me."
However, not everyone was on board.
"A lot of people who refer to themselves as 'Black Lives Matter' were silent on this," the senator admits, parsing her words cautiously. "It's like Malcolm X said, there is a point at which silence becomes betrayal."
Despite the silence from some quarters and the venom of others, in the end, Chappelle-Nadal ended up victorious. Three Republican senators joined Democrats on Wednesday to vote for censure instead of a historic expulsion. Many legislators, Republican and Democrat, felt that expelling a senator for a deleted Facebook post that she apologized for and that even the Secret Service found to be nonthreatening was too harsh a punishment.
It might also be because two weeks after Chappelle-Nadal's post, Missouri Republican state Sen. Warren Love posted that he thought anyone desecrating a Confederate monument should be "hung," and Republicans weren't interested in setting a precedent for punishment that they wouldn't maintain. Whether it was through cowardice, a concern for history or a moment of clarity, Maria Chappelle-Nadal will remain in the Missouri Legislature.
She won't be a part of a few committees, but she can still vote, speak and fight for her constituents.
"This has been a valuable exercise," Chappelle-Nadal said. "It's a reminder that that way racism is exercised in Missouri is legislative."
No one, including Sen. Maria Chappelle-Nadal, thinks that calling for the assassination of President Trump is a good idea. Wishing for anyone's death is generally immoral, illegal and, at a bare minimum, unproductive, and that's from a private citizen—let alone a state official.
However, let's not forget the larger political context that Trumpism has brought to public discourse in this country, especially when it comes to black women. The president has called for protesters and those who disagree with him politically to be beaten and abused. He's bragged about sexually assaulting women, and he invited Ted Nugent, who fantasized about killing President Barack Obama, to the White House.
Trump and Trumpism as a whole have opened the door for vulgar and violent language across the political spectrum, but it seems as if only African-American women are held accountable by the public and their employers when they react to the new normal. Chappelle-Nadal made a mistake; she expressed a violent desire born of trauma and pain triggered by the white supremacist and white nationalist sympathies of the president. The reaction to that should be one of sympathy and understanding, not harsh punishment, and it looks like, in this instance, the Missouri state Legislature made the right decision.