She may be retiring from music—or maybe (likely) not—but Nicki Minaj is still at work, giving first looks at a new collection with Fendi. She initially teased the collaboration in July, and now tells Elle that her fans "are going to be really surprised when they see that I did think of things for them. I totally know that there are a lot of people who think that they can't afford Fendi...If you love your fashion, then sometimes you save up for certain things that you really love."
In an exclusive with the magazine, Minaj, sporting a sleek black bob and backed by a similarly styled crew of models frolicking in what appears to be a very sexy version of a Barbie Dreamhouse pool party, shows off looks from the 127-piece capsule collection. Appropriately named for the 'Chun-Li' lyric "Fendi Prints On," the designs are, as to be expected, full of Fendi logos, Barbie pink, plenty of shine, and lots of skin—much like the cover of the aforementioned single.
"I can't believe that when I was doing that little picture that day, with the Fendi jacket and Fendi panties on...I didn't think that the actual company would think that that was dope," Minaj tells Elle. "To know that they liked it that much, and now it's on a T-shirt, is so iconic to me."
G/O Media may get a commission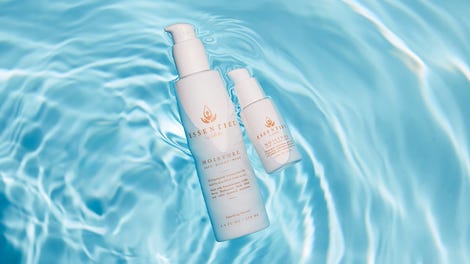 20% off
Essentiel by Adele
But while the aesthetic is decidedly sexy, in keeping with Minaj's expressed desire to start a family, the line includes Fendi-branded offerings for women, men, and children. Speaking with Elle, Minaj spoke plainly about the logomania that has long been synonymous with hip-hop.
Certain brands have always been sought after, because we'd hear rappers rap about them all our lives, and we think that these brands signify some sort of success in life. And then, when you're able to actually afford them, it feels like, 'Wow, I've accomplished one of my goals, at least in the fashion world. Now, looking back, I don't think brands make me successful, but I do think that there are certain ones out there, like Fendi, that make women feel glamorous...it's super confident. It's like, 'I don't give a fuck what you feel about it, this is what I'm rocking.' Hip-hop embodies that cockiness."
The luxury label agrees. "What we liked about Nicki is that she plays with feminine codes, but from her point of view, which is that of a very strong, independent, successful woman," Fendi's creative director, Silvia Venturini Fendi, tells Elle. "She talks about being strong and getting what you want, and I think that it's kind of liberating for women."
Minaj, who did tease an upcoming album with "a way bigger sound" to Elle (so, likely a 'no' on that retirement), says she'd like to liberate women by "[making] clothes that make girls with my body look sexy...What I want [to tell] girls is not necessarily, 'Go and gain weight and have a big booty,' but 'If you do have curves, be proud of it, flaunt it—love the skin you're in.' As clichéd as that sounds, I've been really trying to teach myself that. 'This is who I am; take me or leave me, bye!'"