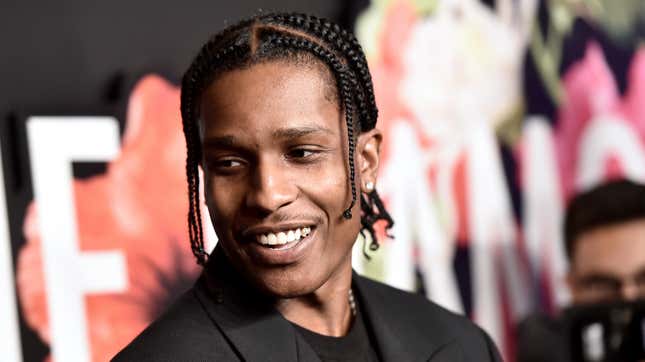 In a full-circle moment no one saw coming, A$AP Rocky is giving back to the Swedish jail that held him for several weeks this summer. Using his influence and style-savvy, the entertainer has reportedly designed new uniforms for the detainees of Kronoberg prison, which he once described as "walking into a toilet" (h/t BBC).

The Bachelorette's Charity Lawson Shares Details About Life After The Show With Fiancé Dotun Olubeko
The rapper, who somehow also made his way into the impeachment inquiries this week (h/t Spin), disclosed the surprising tidbit during an appearance during the 2019 Summit Ideas Conference (h/t Forbes) at a talk titled "Culture, Clothes, and Cultivating Creative Legacy." While there, he also noted, "When I was going through my whole situation, the whole time I used to look on television and see Swedish fans showing me so much love and I want to give it back."
Per Highsnobiety:
Part of that "giving back" has been designing new uniforms for the inmates in the facility. Fredrik Wallin, the head of the Kronoberg prison, told Swedish daily newspaper Aftonbladet that Rocky had reached out about donating clothes to inmates, but nothing has been confirmed yet. According to Wallin, Rocky's lawyer sent him images of the uniform, which consist of a green tracksuit with "PROMENVD" printed on the chest.
Images of the purported uniforms, presumably designed by AWGE, the creative agency A$AP co-founded with Tyler The Creator (which surprisingly also designed Kanye's Jesus Is King capsule collection) have yet to surface. But despite his conviction this summer, the rapper will also be returning to Sweden for an upcoming performance in December, his first since his arrest. In a recent interview with Forbes, A$AP Rocky explained that "most of the proceeds [from performances in Sweden] will go to inmates and prison reformation."
"I'm trying to do what I can with what I can," he said. "I just want to keep creating and encouraging whoever is after me to do it better."
Is it a commitment to prison reform—or at the very least, an attempt to create a more humane prison experience, after his own—or do we have psychotropics to thank for A$AP Rocky's newfound wokeness about the ills of the criminal justice system? As he admitted at the Summit, "psychedelics changed my life for the better, they opened my third eye and made me more attuned...it was a way to love more, it helped me open up my heart."