Whether or not you decided to pull out your spreadsheet and add Netflix to the infinitely long list of things on the black boycott list, including Pepsi, the NFL, SheaMoisture, H&M and Cracker Barrel (to be fair, I don't think Cracker Barrel did anything racist, but every time I go there, it just feels like some racist shit is about to go down), many people have overlooked an important fact in comedian Mo'Nique's public plea to boycott Netflix:
She's kinda right.
On Friday, the comedian and actress who infamously told Lee Daniels, Tyler Perry and future President Oprah Winfrey to "suck her dick," took to Instagram to complain about streaming-service Netflix's lowball offer for her upcoming comedy special.
"I am asking that you stand with me and boycott Netflix for gender bias and color bias," she wrote. "I was offered a $500,000 deal last week to do a comedy special." Mo'Nique explained that Chris Rock and Dave Chappelle received $20 million for their specials while she was offered a seemingly paltry sum for hers.
The internet quickly dismissed Mo's call for a boycott, asking how the hell they were supposed to "chill" if they didn't have Netflix. Furthermore, the detractors claimed, Chappelle, Rock and another highly-paid-by-Netflix comedian, Amy Schumer, were far bigger stars than Mo'Nique. According to the cacophony of social media voices, Netflix's offer was a business decision, not an affront to her "résumé," as the star claimed.
G/O Media may get a commission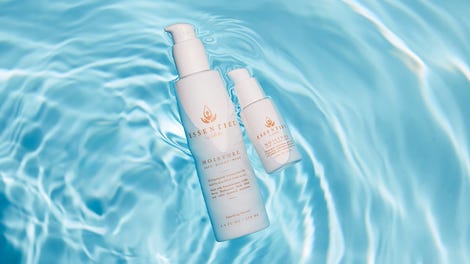 20% off
Essentiel by Adele
But was it, though?
Let's be clear: Netflix did not make $20 million from Chappelle's and Rock's specials. The service would have to see more than 150,000 new customers who subscribed for at least a year, only to watch the stand-up specials, to recoup $20 million. The publicity and free advertising from the hype surrounding the specials may partially justify the financial commitment to Rock, Chappelle and, in addition, Schumer, but not totally.
Part of Netflix's corporate strategy is to bill itself as the go-to source for stand-up comedy. It would be hard for the company to sell that idea to customers if its platform didn't have content from Rock and Chappelle, who are unequivocally considered two of the biggest-name comedians in the world. But Mo'Nique does have a point about Schumer.
Mo'Nique's main point of contention seems to be fellow comedian Schumer's infamous negotiation with Netflix for her 2016 showcase, The Leather Special, when the young comic famously negotiated an $11 million payday after she found out how much Chappelle and Rock had received.
Schumer is the perfect example of those whom we consider "stars" who are mostly creations of media hype and publicity. When Inside Amy Schumer hit the Comedy Central lineup, Schumer immediately became a star. Movie executives thrust millions of dollars at her. The marginally funny comic quickly became the next big thing. Apparently, fans everywhere loved some Amy Schumer.
But not really.
Fewer than 1 million people watch each episode of Inside Amy Schumer. More people watch Love & Hip Hop. The recently canceled Underground drew more viewers than Schumer's show on a network that was much less visible, especially in the coveted 18-49 demographic. Some people might point out that Inside Amy Schumer won two Emmys. The counterargument to that point is that Mo'Nique owns an award some people like to refer to as a "motherfucking Oscar."
Whatever you think of Schumer's comedy and whether or not she is as funny as Mo'Nique (she is not), it is hard to ignore the fact that Schumer's perceived success is because she is a young white woman, making her more sellable to mainstream audiences. Schumer is a bankable celebrity because the show business establishment says she is a show business establishment ... the same establishment that usually rushes to build a pedestal for white owners of golden statues.
This is how Hollywood works. The Kardashians make hundreds of millions of dollars because they are entertainment moguls with a hugely popular reality show. The black women on "ghetto reality TV" should take note except for one fact: More people watch Love & Hip Hop than Keeping Up With the Kardashians.
Straight Out of Compton wasn't nominated for an Academy Award because it was a black film and too musical, until Straight Outta Wypipo Compton La La Land was nominated for Best Picture the following year. Since her 2009 award-winning turn in Precious, the white actresses nominated alongside Mo'Nique have appeared in an average of 18 feature films.
Mo'Nique has appeared in four.
The excuse that Mo'Nique is notoriously difficult to work with is also indicative of the biases she accuses Netflix of holding against her. No one doubts the veracity of the claims by people like Lee Daniels that the Precious star can be combative, but remember that Netflix turned a blind eye to fellow Academy Award winner Kevin Spacey's belligerence and shelled out millions to support his alleged boy-raping and "nigger"-spewing habits.
When it comes to unpredictability, Netflix is apparently willing to ignore the unpredictable past actions of comedians like Katt Williams and Dave Chappelle. It might be because of their comedic brilliance. After all, the company was willing to ignore the claims of sexual misconduct against Louis C.K., which were an open secret for years, until the accusations became widely known.
Of course, Netflix has the right to offer whatever amount of money to whomever it wishes, but the people who say the offer to Mo'Nique was based on celebrity popularity or some calculated algorithm are either uninformed or intentionally disingenuous.
So if Mo'Nique wasn't lowballed because of her résumé, financial considerations or her reputation, why was she offered much less than her contemporaries?
Netflix's offer to Mo'nique may simply reflect the fact that she might not be as big a star as she thinks she is. She might have been lowballed because she is a notorious hardhead. But even if she is overvaluing her worth, there is little doubt that Netflix would not offer the same amount to a white man with Mo'Nique's show business résumé. Or a white woman. Or a man.
Even if you don't think Mo'Nique deserves the same amount as some of the biggest names in comedy ...
Even if you think she is an unapologetic blowhard who needs to learn how not to throw shade like flash grenades ...
Even if the prospect of black people boycotting Netflix is as likely as Colin Kaepernick emerging from beneath the stage during the Super Bowl halftime show to rip off Janet Jackson's top, revealing a red H&M "Make America Great Again" shirt, while they all kneel as Justin Timberlake's falsetto voice hums "Lift Every Voice and Sing," you must admit:
Mo'Nique was right.