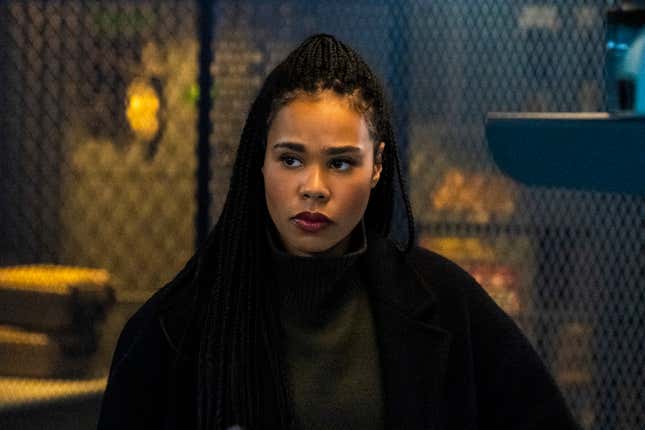 Fans of CBS' popular FBI series know that the teams from the three shows frequently work together in small ways. Case in point, there are video calls and emails that keep them all connected in their shared universe. But what we really wait all season for is the crossover where a case is too big for one team to handle and it travels between all three series. On Tuesday, the three-part episode "Imminent Threat" finds the teams working together to stop a possible terrorist attack in New York City. FBI: International's Carter Redwood and FBI: Most Wanted's Roxy Sternberg and Edwin Hodge spoke to The Root about combining forces and the fun chemistry between the various casts.

Terry Crews Talks AGT, Hidden Talents, & Falling For A White Chick
This is the second major crossover for the franchise. Last time, it was used to introduce and launch International into the fold. In that outing, the FBI and Most Wanted teams worked closely together, but only original series star Zeeko Zaki traveled overseas to join the Fly Team. This time around, it's a full-fledged crossover, with all the casts mixing it up and working across all three series. While these shows live in the same world, they all have a very distinct tone that separates them from each other. They're the same, but different.
"Obviously we started on FBI, so it's really fun being able to work with Missy [Peregrym], Zeeko and the original cast members," Sternberg told The Root. "There are different tones, but I feel like they marry very well together. It feels like it's one in the same, and I don't know if that's the writing [or] if that's because we just vibe off each other. Lots of energy…it's just action, action, action, which is what people want to see in the crossover. We've got adoptions, we've got people undercover, it's just nonstop and I'm hoping that the audience are going to enjoy it."
For Redwood, the experience is like one big family reunion. It's also a nice reminder of how connected these shows really are.
"We all exist in the same world, same universe, but outside of a few FaceTime calls here and there, and a few references based on past working relationships with different characters, we don't really get to do this that often," Redwood said. "It's been really exciting to film the crossover. It's the first time this season that we've all come together. The last time we were all together was obviously our series premiere. So it's been really exciting to come together and join forces to solve this case."
As much fun as everyone had shooting the crossover, that doesn't necessarily mean the characters will instantly become one big family. These three teams have different styles of working a case, so viewers will definitely get to see some disagreements and communication issues.
"That's the cool part about these characters. Everybody's very, very strong in their personalities. Given the situation, the high intensity of certain scenes, you're gonna have those moments where people are gonna butt up against each other," Hodge said. "But, there's also the respect level and understanding that one may be the senior over the other and you just have to fall in line."
While the normal broadcast order sees FBI air at 8 p.m., followed by International and Most Wanted, things are getting mixed up a little for the big event. The night starts with International at 8 p.m., then segues into FBI at 9 p.m., before wrapping up with Most Wanted at 10 p.m. Redwood explains that it does put a little extra pressure on the International Fly Team.
"I think the exciting part is the last crossover we ended the three-hour meeting and now we start the three-hour event," Redwood said. "I think it's fun how this case starts in Rome, but it's tied to an ongoing case that's happening in New York. There's definitely a little bit of pressure but we're excited about it. I think that's the beauty of being a part of this franchise is that we are all cut from the same cloth and there is a general tie in and throughline in terms of how the shows are run and how the episodes come out. It's also really just fun to kick things off."
FBI: International airs Tuesday, April 4 at 8 p.m. on CBS. It's followed by FBI at 9 p.m. and FBI: Most Wanted at 10 p.m. The series are also available on Paramount+.