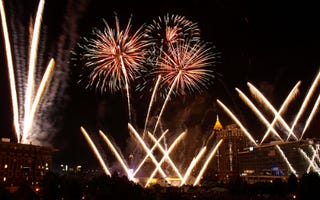 Centennial Olympic Park's Fourth of July Celebration
The annual festivities include arts and crafts, face painting, inflatables and stilt walkers.
Also on hand will be celebrity chef Sara Moulton, who will be cooking family meals. There will also be free musical entertainment that begins at 5 p.m. with R&B covers from the band called 911. At 6:30 p.m. there is a performance from country-pop trio, Edens Edge.
When: Noon-4 p.m., July 4, 2011
Where: Centennial Olympic Park, 265 Park Avenue West NW, Atlanta, GA 30313
Cost: Free
Click here for more information.
National Black Arts Festival (NBAF)
The NBAF is one of the premier national and international events for celebrating the art, music and culture of people of African descent. The festival showcases more than 1,000 artists from the Caribbean, Africa, Europe and the Americas. Enjoy artist markets, a gallery crawl, music, literature, theater and film during this 10-day cultural festival. Check out the performances on the music stage of blues, soul and jazz music, Afro-Cuban-Brazilian dance, or catch the Legends Celebration to hear a live performance from the O'Jays.
When: July 7-17, 2011
Where: Various locations throughout Atlanta
Cost: Many of the events are free; some require tickets. See the NBAF website for prices.
Click here for more information.
Lasershow Spectaculor at Stone Mountain Park
The Lasershow is a dazzling display of neon laser lights featuring characters, stories, graphics and fireworks choreographed to popular musical scores. The famed patriotic grand finale includes a live fireworks display.
When: Every night at dusk, all summer
Where: Stone Mountain Park, 1000 Robert E. Lee Drive, Stone Mountain, GA 30083
Cost: Parking, $10
Click here for more information.
Georgia Aquarium's New Dolphin Exhibit
The Georgia Aquarium recently opened up a new dolphin exhibit that features a gallery, a theater and a dolphin show. The largest aquarium in world is a must-see to learn more about everyone's favorite aquatic animals.
When: Sunday-Thursday: 9 a.m.-6 p.m.; Friday: 9 a.m.-10 p.m., Saturday: 9 a.m.-9 p.m.
Where: 225 Baker St., NW, Atlanta, GA 30313
Cost: adults, $37.45; children 3-12, $25.95; seniors, $30.45
Click here for more information.
Atlantic Station Movies in the Park 2011
Atlanta offers free movies every Thursday at dusk on the lawn in Central Park. The series began May 12 at Atlantic Station and runs through the end of September. Some of the movies to look forward to are Déjà Vu (June 16), The Wizard of Oz (July 7), Toy Story 3 (Aug. 4) and Dreamgirls (Sept. 22).
When: Dusk, every Thursday until Sept. 29, 2011
Where: Central Park, 90 Boulevard, NE, Atlanta, GA 30312
Cost: Free
Click here for more information.
 Atlanta Greek Picnic, June 8-12
The Atlanta Greek Picnic weekend is a yearly summer event designed for members of the prestigious Divine Nine Greek letter organization. This event has consistently drawn a wide variety of black fraternity and sorority members from across the United States. From its quiet beginnings, it has become the most popular destination and focal point for all Greek Chapters, Line Brothers, Line Sisters and Sands to reunite and socialize for one exciting weekend of unity, service and bonding.
When: June 8-10, 2011
Where:  Various locations in Atlanta
Cost: Tickets required for various events; see website for details.
Click here for more information.