John Crawford III lost his life over a toy gun.
At least that's what his relatives are claiming, and they are taking their case to civil rights organizations, the Dayton Daily News reports.
According to the news site, on Tuesday night Crawford was talking on his cellphone to the mother of his two children, LeeCee Johnson, when he was gunned down by police while standing in an aisle at Wal-Mart.
"We was just talking. He said he was at the video games playing videos, and he went over there by the toy section where the toy guns were." Johnson said, according to the news site. "And the next thing I know, he said, 'It's not real,' and the police start shooting, and they said, 'Get on the ground,' but he was already on the ground because they had shot him." She added, "And I could hear him just crying and screaming. I feel like they shot him down like he was not even human."
The 22-year-old Fairfield, Ohio, native reportedly had a third child on the way, also with Johnson, who didn't get the chance to tell Crawford about the pregnancy.
"He had a lot of family members that cared about him and his kids. They're not going to be able to know their dad. They're too young—only 4 months [Jayden Crawford] and a year old [John Crawford IV]—to even know how wonderful he was to them," she said.
G/O Media may get a commission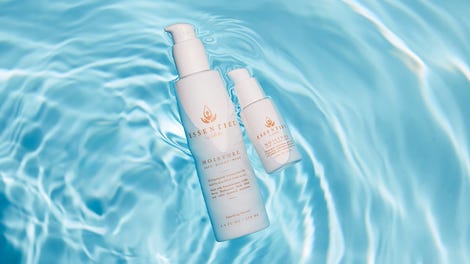 20% off
Essentiel by Adele
His cousin Lamon Brown insists that Crawford didn't even own anything that resembled a gun. "He does not own [a riflelike weapon]. We think it was a toy," Brown said. "After these things happen, they usually report what kind of gun it was, but they're not saying what kind of gun it was." He said that the family has reached out to the NAACP and National Action Network.
The police chief in Beavercreek, Ohio, said that his officers responded appropriately, the Dayton Daily News reports. According to the New York Daily News, the Ohio attorney general says police shot Crawford because he was carrying a pump air rifle, which is similar to a high-powered BB gun. It cannot kill a person but can be used to kill small animals in close range. 
Johnson disagreed that the shooting was appropriate and told the Dayton Daily News that officers did not speak to her after the incident. She's hoping that camera footage and phone records will bring the truth to light. "I hope the police get fired and sent to jail, because [the officer who shot him] didn't do his job. He didn't treat him like a human being. He didn't treat him like someone at Wal-Mart looking at toy guns," she told the news site.
A woman claiming to be Crawford's girlfriend, Tasha Thomas, said that she was with Crawford at Wal-Mart but was in a different aisle during the shooting. Thomas insisted that Crawford was not armed when he was in the store.
"He did not have any type of gun on him," she said. "It's not fair."
Read more at the Dayton Daily News and the New York Daily News.