I'm all i-Ed out. At the moment I'm packing an iMac, iPad, iPod and iPhone, and David Pogue's review convinced me that I must have the new MacAir because, well, my iPad plus external keyboard just isn't cutting it for real work and real deadlines, no matter how many cool apps I've dutifully downloaded. I woke up this morning thinking that either I need each and every one of these devices to survive life on earth, or Steve Jobs is one of the biggest, baddest drug dealers of all time, and I'm addicted to his product.
I've been using Macs since high school, when my father bought me a 512K Enhanced Macintosh to bang out my college applications and I fell in love with the plug-and-play functionality designed for technologically challenged and manual-reading averse humans like myself. I use Macs today for those reasons and more. They're capable of amazing feats of digital wonder, and they drip with heart-stopping beauty.
But Apple really got me at "Think Different." The legendary campaign associated Apple users with Gandhi, John Lennon, Picasso, Einstein and Dr. King; who wouldn't want to be in that company? The bold, minimalist campaign suggested a seamless practice of companywide integrity that trumped all comers.
But things appear to be changing at Apple. At times, profit appears to be steering the ship. Some also say that Jobs has a scary God complex. And as a producer friend texted me the other day while we were waxing rhapsodic about the new MacAir, the company has consumers strung out, drinking Kool-Aid that may have been delish, organic and bursting with integrity 20 years ago, but today may be anything but.
Let's start with the suicides at the Apple plant in China. Apparently the stress of maintaining secrecy about prototypes and manufacturing conditions is so tremendous, workers snap under the constant scrutiny and … jump off the tops of buildings. Apple Computer Inc. was also one of the companies included in Greenpeace International's "E-Waste Hall of Shame." More than 70 environmental groups signed a letter to former Vice President Al Gore, who sits on the board of Apple, asking him to push the company to become more sustainable.
G/O Media may get a commission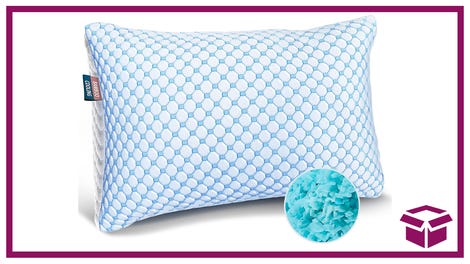 23% off
Nestl Cooling Pillow - Queen Size
Closer to home, Steve Jobs is so powerful that complaining about his products or person has been likened to a death sentence for those in the media, and right-wing conservative Rupert Murdoch, He Who Rules All Things Media Worldwide, thinks Jobs is the second coming. Recently the two media moguls announced the digital love child, an "iNewspaper" called the Daily. Strange bedfellows, indeed.
In older news, Jobs recently went gangsta in a text to a student who asked about the lack of responsiveness of Apple's PR department in response to questions she asked for a research paper. Among other responses, Jobs informed the budding journalist that Apple's "goals do not include helping you get a good grade."
Nor did Jobs concede when millions of Apple users threw up our collective hands when we found ourselves without Flash on our iPhones and iPads. According to Jobs, Flash is an inferior product and HTML5, though not used often, is better. Adobe doesn't agree. Same with iPhone 4 antenna-gate. No apologies. Apple is perfect. Do you want fries — I mean accessories — with that?  
The incessant rollout and concomitant pressure to buy new products also gives me pause. I bought into the iPad, and now, barely three months later, here comes Charlie with some new stuff on the street: a laptop I've gotta have and an iPhone I apparently can't live without.
In an acknowledged departure from my demand for all things Apple, my loyalty to RIM knew no bounds. But after my Blackberry had an unfortunate mishap with a puddle, I was practically steamrolled into buying the iPhone 4 by a salesman at AT&T who made me feel I'd miss out on a ticket for Branson's commercial space shuttle if I didn't buy it.
I handed him my credit card as if in a trance (neuromarketing techniques?), and was tweeting like a fiend in nanoseconds. I hated the keyboard; I loved the camera. Should I keep it or take it back? Who else in the tweetisphere made the switch? #BBviPHONE4? Love it or hate it, win-win for Apple. I'm out there talking it up. Practically giving out free samples.
Even closer to home: the 1-800-SOS-APPLE experience. In the old days, calling for help used to be so nice. Sade's "No Ordinary Love" caressed the ear while on hold, and an Apple Genius-devotee walked me patiently through syncing my wireless mouse. Now, when I call about a feature not operating as promised, it's scratchy punk rock and techs that don't even use Apple products.
And while there's no proof of racial profiling at Apple, I always wonder why I don't see more black Geniuses in the many Apple Stores I frequent. I hear the store in the Chocolate City has a few, but none were in evidence when I visited stores in Louisville, Ky.; Boulder, Colo.; Berkeley, Calif.; and Fort Lauderdale, Fla. over the past year. The inimitable Jessie Jackson singled the company out in 2000 for failing to appoint African Americans or Latinos to the board. Ten years later, it appears that the makeup of the board has not changed.
What does it all mean, and where is it all going? Apple is no longer the company it once was. In the last five years it has grown into one of the largest, with an estimated value of $500 billion. The design is still there, and millions of creatives will go to their graves clutching their latest Apple object, but behind the facade, the tremendous drive to turn Apple into one of the largest tech companies in the world may be denting its allure.
Don't get me wrong — I'm going to get Apple's Mobile Me service as soon as I finish this piece, and make sure all my information gets pushed to all my devices. I'm going to delight in new apps like the Tripit travel planner, which has changed my life forever, and watch Mad Men on my iPad. I'll never stop looking at PC users as if they're from another, less evolved planet.
But my opinion of Steve Jobs, what he cares about and where he's taking us, is an app I've yet to rate. I'm getting closer every day, though, and for all our sakes, I want him to remember his initial promise. If I wanted just another smart phone, I'd buy an Android or HTC (which, by the way, is all the rage in Europe, where the Apple presence is decidedly muted). If I wanted to buy a product made in China in awful conditions, I'd buy an HP or Dell. 
I heart you, Steve Jobs; you're a genius and you've changed my life immeasurably for the better. But I want — I need — integrity to continue to be a huge part of the Apple brand. Thinking different isn't enough. I want you to keep being different, too. 
Rebecca Walker is the author of Baby Love: Choosing Motherhood After a Lifetime of Ambivalence. Follow her on Twitter.