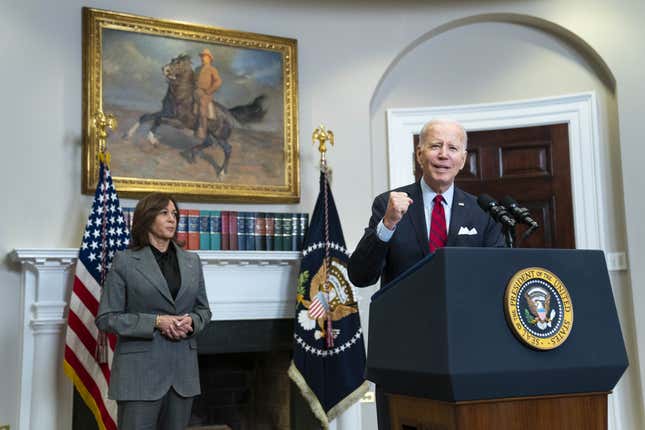 Updated 1/6/2023 at 3:45 p.m. ET  
The cost of a single phone call might not be something you think about on a daily basis. But for the millions of Americans incarcerated throughout the United States, a phone call is often their only lifeline to the outside world. And far too often the price of that lifeline is more than they or their family can afford.
The Biden And Trump Classified Documents Scandal Explained
Today, the Biden-Harris administration made major strides to change that, by signing the Martha Wright-Reed Just and Reasonable Communications Act.
The bi-partisan bill was named after Martha Wright-Reed, a retired nurse who advocated for reducing the cost of prison calls because she couldn't afford to call her incarcerated grandson.
So what exactly does the law do? Glad you asked, first and foremost the law allows the Federal government to cap intrastate rates and fees for audio and video calls in correctional facilities.
In an exclusive interview with The Root, Vanessa Chen, Special Assistant to the President for Criminal Justice and Guns Policy, opened up about the new law means for families.
"As President Biden stated on the campaign trail, he supported signing legislation that would address the exorbitant fines and fees that are currently levied for within the same state phone calls from jails and prisons," says Chen. "Meaningful communication and connection with loved ones helps promote rehabilitation, and it also reduces recidivism, which makes our communities safer."
Although it varies state to state, the average cost of 30 minute phone call in prison is about $5. And while $5 may not sound like a lot to everyone, these fees can be cost prohibitive for low income families.
For many inmates, calls are their only form of connection with the outside world, explains Chen.
"A 2020 study found that more than 80% of incarcerated persons in jails and prisons rely on phone calls to communicate with their family and many subjects," says Chen.
Jails are generally in remote locations, meaning virtual visits can often be prisoners only contact with the outside world. Research suggests that incarcerated people who maintain phone contact with their families are less likely to re-offend.
Part of what makes this legislation special, is that it was done on a bi-partisan basis, says Chen. Senators Tammy Duckworth (D-IL) and Rob Portman (R-OH) co-sponsored the bill.
"No family member should ever have to choose between staying in touch with an incarcerated loved one and paying the bills," said Duckworth in a statement. "I'm proud President Biden signed this legislation into law, and that we're entering 2023 by helping ensure that phone rates in correctional facilities are reasonable so family members can afford to stay in touch with incarcerated loved ones."
Chen says she's hopeful that the administration can continue working with lawmakers on criminal justice reform.

"As we've seen, criminal justice reform tends to be an area in which bipartisan agreement and collaboration is possible," says Chen. "We look forward to working with members of both parties who are interested in undertaking evidence based strategies that work to both reduce crime, strengthen our communities, and address existing disparities in the criminal justice system."