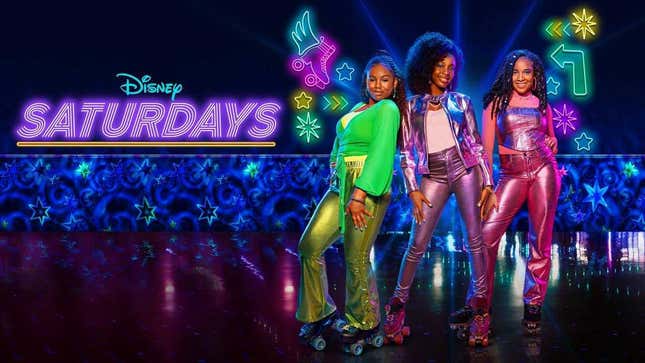 We all love Saturdays, and now Disney Channel is giving us one more reason to be excited about the most fun day of the week. Its new comedy, Saturdays, focuses on 14-year-old Paris Johnson and her friends, who spend their time at Saturdays roller skating rink showing off their moves as the We-B-Girlz skate crew. In an exclusive behind-the-scenes video, the series' cast reveal the secrets of this adorable new show.

Disney Channel's Saturdays Is Our Black TV Pick Of The Week
"Saturdays is about a young teen named Paris Johnson and her love for skating," series star Danielle Jalade says in the clip.
Golden Brooks (Girlfriends), who plays Paris' mom Deb Johnson, explains how there are no episodes centered around what's happening at school, big projects, exams or tests.
"Everything happens on Saturday. You won't hear any talk of school," Brooks says. "No homework episode. It is always about Saturdays."
When we talk about representation, it's not just about having Black actors in high-profile roles, it's also about highlighting the important aspects of our culture. Roller skating rinks have always been essential gathering spots for the Black community. They provide a laid-back, familial atmosphere for the neighborhood to come together. It's also where new music can be discovered for the first time. That hot new dance track may not be on the radio, but it's in constant rotation at the rink. Their popularity may rise and fall, but their importance never wavers. So to see how roller skating rinks have become important to a new generation of Black kids and families is a perfect example of beautiful representation for the Disney Channel audience.
It's also crucial for Black kids and teenagers to see a more diverse presentation of themselves in entertainment. As we always say, Black people are not a monolith. Well, that applies to kids too. Not every Black kid is the "sassy best friend," or the confident jock," or "the cool, aspiring singer and dancer." Some of us were artists, or scientists, or writers, and we need to see them all celebrated.
Saturdays premieres Friday, March 24 on Disney Channel, with episodes available on Disney+ the day after they air.