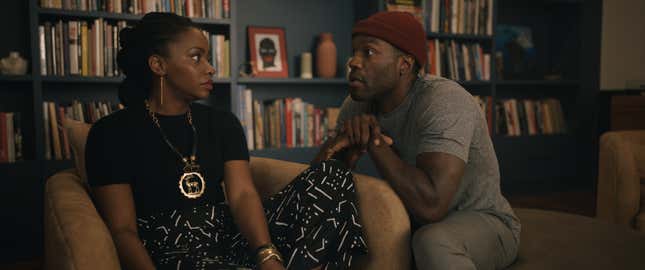 Last Friday, our dearly departed entertainment writer, Tonja Renée Stidhum, blessed the internet with an exclusive clip from Nia DaCosta's upcoming masterpiece, Candyman. And because God is good all the time, today provides the perfect opportunity to bless the masses once more.
'In the Heights' and the Erasure of Dark-Skinned Afro-Latinx Folks
Candyman is much more than your stereotypical horror movie. With powerful underlying themes of gentrification, police brutality, generational trauma, and racialized violence, this Jordan Peele-produced film offers a unique exploration into many of our lived experiences. And while plenty of folks will leave the theater scared as shit and eager to unpack what they've just witnessed, Monkeypaw Productions has assembled a brilliant panel of experts to discuss the cultural significance of Candyman and how this new chapter invites audiences to delve beyond trauma and celebrate the resiliency, vibrancy, and creativity of Black culture.
This roundtable, hosted by Colman Domingo—who plays Cabrini Green resident William Burke in the film—features the invaluable insight of award-winning author and UCLA's Professor of Black Horror and Afrofuturism, Tananarive Due; founder and executive director of BEAM (Black Emotional and Mental Health Collective), Yolo Akili; trauma psychotherapist and educator, Dr. Wendy Ashley; and Lorenzo P. Lewis, activist and founder of The Confess Project; which prides itself as being "America's first mental health barbershop movement."
And for those who are unfamiliar with the premise of Candyman, here's a refresher:
For as long as residents can remember, the housing projects of Chicago's Cabrini-Green neighborhood were terrorized by a word-of-mouth ghost story about a supernatural killer with a hook for a hand, easily summoned by those daring to repeat his name five times into a mirror. In present day, a decade after the last of the Cabrini towers were torn down, visual artist Anthony McCoy (Emmy winner Yahya Abdul-Mateen II; Watchmen, Us) and his partner, gallery director Brianna Cartwright (Teyonah Parris; If Beale Street Could Talk, WandaVision), move into a luxury loft condo in Cabrini, now gentrified beyond recognition and inhabited by upwardly mobile millennials.

With Anthony's painting career on the brink of stalling, a chance encounter with a Cabrini-Green old-timer (COLMAN DOMINGO; Zola, Ma Rainey's Black Bottom) exposes Anthony to the horrific true story behind Candyman. Anxious to maintain his status in the Chicago art world, and spurred on by his white art dealer, Anthony begins to explore these macabre details in his studio as fresh inspiration for paintings, unknowingly opening a door to a complex past that unravels his own sanity and unleashes a terrifying wave of violence that puts him on a collision course with destiny.
Check out an exclusive clip of the roundtable discussion "Candyman: The Impact of Black Horror" below and be on the lookout for the livestream debut of this special later today on Twitter at 2 p.m. EST.
Candyman—don't say that five times in the mirror—arrives in theaters on Aug. 27.
Candyman: The Impact of Black Horror
Candyman: The Impact of Black Horror