By now, we're all aware of the Twitter "battle" between Meek Mill and Drake last night. Fortunately, our sources were able to find and forward an email exchange that was also going on between Mill and his girlfriend, Nicki Minaj, while that was happening. Below is a condensed version of the conversation.
From: Onikaunchained@gmail.com: To: NOCHILLMILL@msn.com: 7:31PM
Babe, we need to talk.
NOCHILLMILL@msn.com: 7:33PM
WHAT UP!
Onikaunchained@gmail.com: 7:51PM
Remember that leopard print Lambo I copped in Dubai in May, when we was there to perform at Sheikh Hamdan bin Mohammed bin Rashid al Maktoum's niece's sweet sixteen? And you was like "I WANT ONE TOO!" And I was like "First things first, I'll eat your brains." And you was like "I DONT EVEN KNOW WHAT THAT MEANS." But then I copped one for you too?
NOCHILLMILL@msn.com: 8:17PM
OF COURSE I REMEMBER. CAUSE BITCH I'M A BOSS. AND BOSSES REMEMBER WHEN THEY BITCHES COPPED THEM LEOPARD PRINT LAMBOS IN DUBAI. THERE WERE SOME BAD BITCHES IN THAT BUILDING TOO. AMEN.
G/O Media may get a commission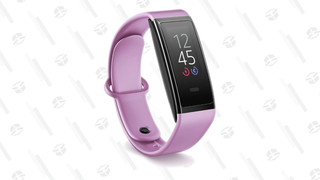 44% Off
Amazon Halo View Fitness Tracker
BUT YOU WAS THE BADDEST.
Onikaunchained@gmail.com: 8:25PM
***swoon***
***squirt***
***squirt***
***squirt***
***squirt***
***squirt***
***squirt***
***swoon***
NOCHILLMILL@msn.com: 8:37PM
BUT YEAH. THE CHEETAH HAIR NECK FUR ON THE CLUTCH IS JOHN BLAZE, B. REMINDS ME OF ROZAY'S BACK HAIR. WHY? DOES 50 CENT WANT TO BORROW IT AGAIN TO GO TO COSTCO? THEY DON'T GOT COSTCOS IN PHILLY. JUST RATS CARRYING PICNIC BASKETS ON THEY BACKS.
Onikaunchained@gmail.com: 8:50PM
You also remember that song I did with Drake, right? That "Only" song where Drake and I fantasized about how easy it would be to fuck each other right under everyone's nose without anyone ever knowing?
NOCHILLMILL@msn.com: 9:11PM
MAN DON'T MENTION THAT HALF-BAKED MAC AND CHEESE LOOKING MOTHERFUCKER'S NAME TO ME EVER AGAIN. THIS NIGGA WAS ON INSTAGRAM LAST NIGHT POSTING SELFIES AND CROSSFIT TIPS. AND I KNOW THAT NIGGA WAS LISTENING TO DREAMS AND NIGHTMARES WHILE DOING IT. CAUSE THAT'S THE BEST CROSS FIT WORKOUT SONG OF ALL-TIME. BUT THIS ERASER FACE-ASS NIGGA COULDN'T EVEN GIVE A NIGGA A HASHTAG. FUCK THAT FUCK NIGGA. THE NEXT TIME I SEE THAT LUCKDRAGON ASS NIGGA I'M GONNA SNATCH WALE'S TWISTS OUT HIS HAIR AND SMACK HIM WITH EM. PHILLY, WHAT UP!
Onikaunchained@gmail.com: 9:27PM
Dammit baby you get me so wet when you misuse punctuation marks! If I wasn't in Anchorage doing this submarine hologram photo shoot with Russell Westbrook and Vladimir Putin I'd use your face as a stool. Ride that nose like a bull. And then I'd start to drool. And then there'd be a pool. Michael Phelps.
Oh, damn…hehe. I lost my train of thought. Talib Kweli. Anyway, babe…I copped that leopard skin Lambo for you with the money I made from "Only." I know you hate Drake because we stay actin like we fuckin even though we not. (Really!) And you saw his name saved in my iPhone as Aubrey Pipes. But you need to chill, babe, because his features finance my automobile expenditures. And yours too. Safaree.
NOCHILLMILL@msn.com: 9:38PM
YOU GOT LEVELS TO YOUR SHIT TOO. THAT'S WHY I FUCKS WITH YOU, B. WELL, THAT AND THE FACT THAT YOU LIGHTSKINNED. CAUSE I'M COLORSTRUCK!
PHILLY!