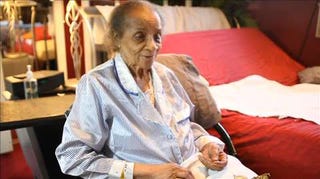 Texana Hollis, 101, had the nation's sympathy in September, when her son failed to pay taxes to maintain a reverse mortgage on her home of nearly 60 years, causing her to be evicted.
After the eviction, the centenarian was left on the street in her wheelchair and had to be taken to the hospital.
Now, thanks to the help of Detroit Free Press columnist and author Mitch Albom and a slew of volunteers, Hollis has moved back in. Albom bought the home from the U.S. Department of Housing and Development for $100, promising that his charity, S.A.Y. Detroit, would renovate the house, and Detroit Rescue Mission Ministries and Tamer Builders of Dearborn completed the more than $30,000 in repairs that HUD required before she was allowed to move back in.
"It's beautiful," Hollis told the Detroit News. "May the Lord bless all of you." Hollis, who had lived with longtime family friend Pollian Cheeks since the eviction, returned to the home on Wednesday.
"Today a wrong has been righted," Albom said. "She belongs in this house."
Read more at the Detroit News.
 Like The Root on Facebook. Follow us on Twitter.