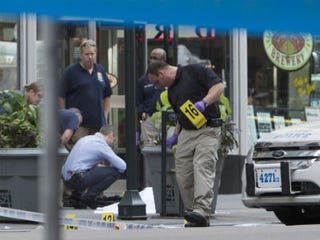 Jeffrey Johnson fatally shot a former co-worker outside of the Empire State Building in New York on Friday, but why? According to the Associated Press, police say that the victim, Steve Ercolino, an apparel company vice president, and his killer, a T-shirt designer, had been involved in a tense office relationship.
Police investigating Johnson's killing of Ercolino were eyeing bad blood between them from when they worked together at Hazan Import, a garment district business where Ercolino was a vice president of sales.

Johnson and Ercolino had traded harassment accusations when they worked together, police said, and when Johnson was laid off from the company a year ago he blamed Ercolino, saying he hadn't aggressively marketed his new T-shirt line …

A neighbor who often saw Johnson, 58, said he was always alone.

"I always felt bad," said Gisela Casella, who lived a few floors above Johnson in a modest apartment building on the Upper East Side. "I said, `Doesn't he have a girlfriend?' I never saw him with anybody."
Read more at the Associated Press.