Here we go again. A school district in Washington state has suspended an elementary school principal after a group of fifth-graders claimed that she used the n-word during play rehearsal last week.
Poulsbo Elementary School Principal Claudia Alves has been placed on a leave of absence while the district investigates the incident, North Kitsap County Superintendent Patty Page said in a letter to parents, the Kitsap Sun reports. The district is currently seeking an acting principal, the report says.
The incident occurred Tuesday while a fifth-grade class was performing a play about Martin Luther King Jr., which is advertised for children in grades 3-6, the report says.
Page confirmed in an email to the Kitsap Sun that the "situation" she referenced was one in which Alves reportedly used the n-word. She apparently was trying to explain the difference between the n-word and "Negro," and then repeated it later in her office and during discussions with parents, the report says.
Shawna Smith, mother of a Poulsbo fifth-grader, told the Kitsap Sun that students in her son's class were uncomfortable with the word "Negro." Smith said the students' teacher tried to explain it but had trouble getting them to understand its historical context, the report says. Alves, who was in the room, stepped in for an assist. But Smith said several students were bothered by her explanation and use of the n-word. Several students watched Smith's son and another student as it was used. Smith, who is white, is married to Matthew Smith, who is black, the report says.
G/O Media may get a commission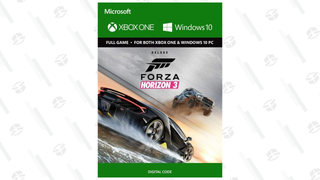 Forza Horizon 3 (Digital Code)
After Alves' explanation, students were uncomfortable and many refused to be in the play, the report says. Smith said that Tuesday Alves called her husband and, while explaining the situation, used the n-word again. She was placed on leave as of Wednesday, Page said in an email to the Kitsap Sun, but said it was not considered a disciplinary action.
Read more at the Kitsap Sun.