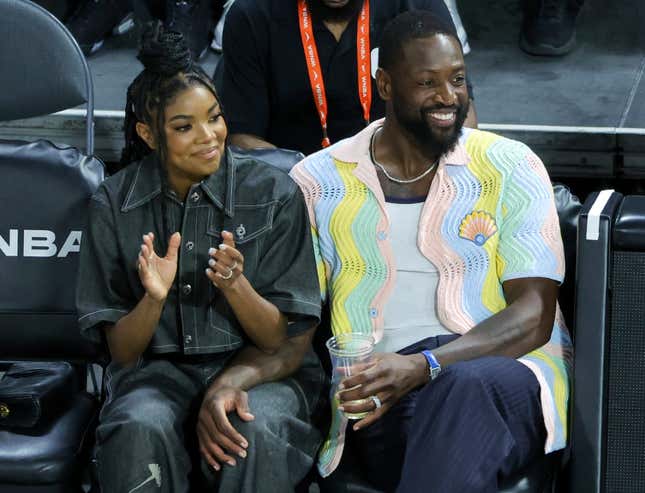 Parenting is hard enough, but parenting in the public eye adds a whole new set of challenges – and often a lot of unwanted criticism. In a new interview for a special digital edition of Parents, NBA star Dwayne Wade and actress Gabrielle Union opened up about the steps they are taking to parent with purpose and set their kids up for success.
Gabrielle Union & The Cast of The Perfect Find Define Black Love
The superstar couple, married since 2014, share a beautiful blended family. Along with their daughter, Kaavia James, 4, Wade has a daughter, Zaya, 16, and sons, Zaire, 21, and Xavier, 9, from previous relationships.
Wade and Union told Parents their kids' well-being is their primary concern, which is one of the reasons they decided to relocate from Florida to California in 2020 in search of a better environment for Zaya, a model and influencer who came out as transgender at age 12.
"We felt that California was a place that would allow her to blossom and grow. She's going to be a junior in high school now, and she's been able to be accepted and become her here," Wade said.
Anti-LGBTQ rhetoric has been a major focus for Florida governor Ron DeSantis as he tries to defeat frontrunner Donald Trump for the Republican presidential nomination in 2024. In 2022 he signed the Parental Rights in Education bill, a move he said, "makes sure that Florida students and teachers will never be forced to declare pronouns in school or be forced to use pronouns not based on biological sex."
Union added that while they had the means to relocate, they understand their obligation to other members of the community who cannot. She says they will continue to use their celebrity status to speak truth to power.
"When you have the kind of rhetoric that is being espoused in Florida and adopted into law, that's not an option if my child isn't safe there," Union added. "We have family and friends who don't have the privilege of moving. So we are going to be fighting 'til we are out of breath to protect all kids who are oppressed. That is our responsibility as people with large platforms and as people who folks trust, and they trust us because we say the hard thing."