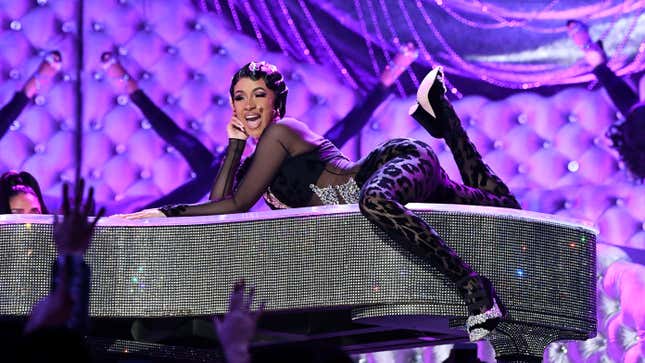 Cardi B is making intellectual property moves.

According to trademark documents obtained by TMZ, the 26-year-old rapper (and future actress!) has filed a trademark for "bocktails" in order to debut a new line of drinks. But, her bag doesn't stop there. Cardi also wants the name to evolve into a TV show titled Bocktails with Cardi B.
Comedian London Hughes Talks New Book, Parents Watching Her Very Sexual Comedy, & Beyoncé
The filing cites the term will be used for "entertainment services in the nature of providing ongoing episodes for distribution via television and the Internet featuring celebrities and artists."
If you thought it stopped there, think again. Her team is smart.
Reports TMZ:
She wants more than a show with the name, "Bocktails with Cardi B." She's asking for exclusivity on clothing, including shirts, t-shirts, sweatshirts, hooded sweatshirts, hats, caps, footwear, skirts, dresses, blouses, sweaters, pants and shorts."

And, there's more ... she wants to use the name for "alcoholic beverages, except beer and beverages containing beer."
Huh, guess "B" doesn't stand for "beer" in Cardi's universe.
While Cardi is, fortunately, looking toward the future of her bag, it looks like the present isn't being too kind. TMZ also recently reported Cardi had to postpone the 92Q Spring Bling Festival she was set to headline this Friday night in Baltimore. Reportedly, Cardi is recovering from a recent liposuction and breast augmentation procedure.
TMZ noted:
We're told it's gotten so bad, she simply can't perform — a move her doctors had encouraged, telling Cardi she needs time to let the swelling go down and for her body to fully recover. Doctors are recommending a couple of weeks of R & R.
Let's just say fans were a mixture of big mad, hurt, and disappointed.
Wishing her well in her recovery. In the meantime, fans can get their glasses ready for a couple of bocktails. Turn up.