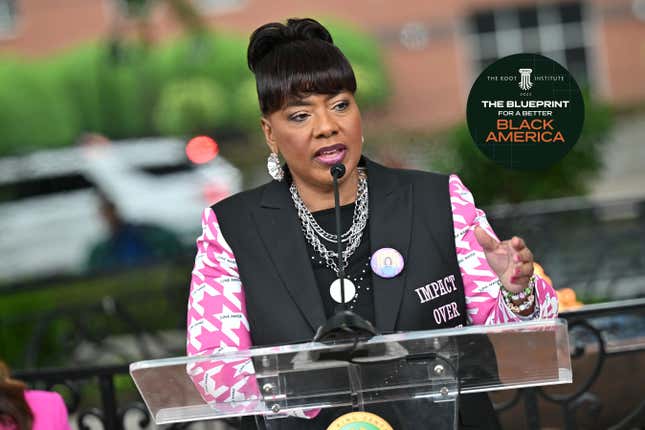 This article is part of The Root Institute 2023 pre-event coverage.

In the second part of our conversation with Dr. Bernice King, the CEO of the King Center said she was ready to talk solutions. In part three, we delve into those solutions... and yes, we're going to talk reparations. (Checkout: part I, and part II).

Less than a decade ago, the idea that reparations could be a real possibility would have felt inconceivable to many. Now, California, the largest economy in our nation, is seriously considering a reparations proposal. And cities and states across the country have begun the task of working out what reparations for Black Americans could look like for them.
Comedian London Hughes Talks New Book, Parents Watching Her Very Sexual Comedy, & Beyoncé
Reparations aren't just a fantasy anymore, and if you ask Dr. Bernice King, they're a potential game-changer. "I think there's a lot of opportunity and possibility there that could actually help to impact so many other areas," she says. "Whether you're talking about education, whether you're talking about wealth creation... issues around health and the environment."

Still, the concept is largely unpopular with the greater American public—particularly white Americans. Roughly 68 percent of Americans and 80 percent of white Americans opposed reparations for descendants of enslaved people when Pew Research polled the question last year.
Michael Blake, Founder of ATLAS, who sat down with Dr. King and The Root on the heels of the 60th anniversary of the March on Washington, says there's a level of irony in those responses.
"Think about COVID," said Blake. "Americans were fine receiving stimulus checks. But yet, polling is negative about reparations. So that means that there's a mindset of no, Black people shouldn't be advanced economically, even though Black folk received stimulus checks as everyone else."
Despite the hurdles to achieving reparations, Dr. King says she believes that they're not only warranted but that her late father, Dr. Martin Luther King Jr., would have supported them. "It's gonna take a lot work," she says. "But I do believe that it's warranted. I think it's something that my father, without directly using the words, spoke to."