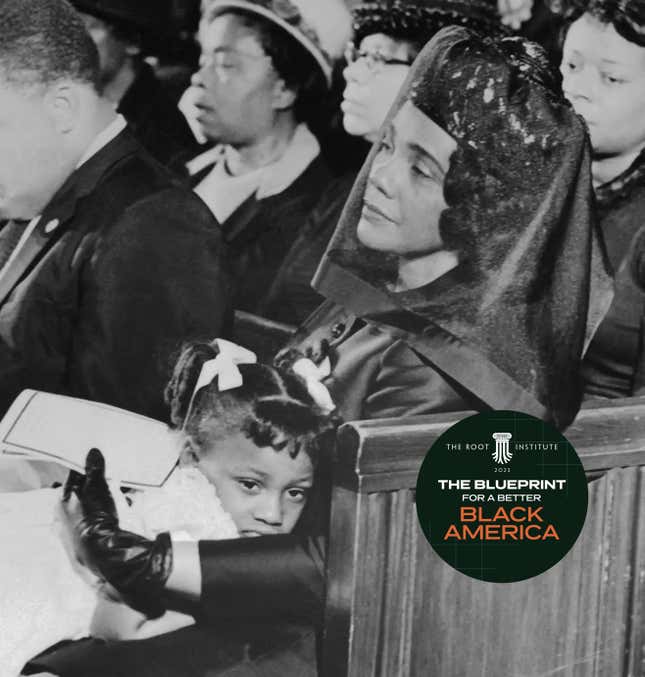 This article is part of The Root Institute 2023 pre-event coverage.
The responsibility of upholding the legacy of the two most celebrated civil rights icons in our nation's history is no small feat. But then, Dr. Bernice King, the youngest daughter of Dr. Martin Luther King Jr. and Coretta Scott King, isn't your average person.

At just five years old, she was thrust into the national spotlight following the assassination of her father. The iconic photo of her mother comforting her at the funeral was plastered everywhere— eventually winning a Pulitzer. Now, at sixty years old, Dr. King has more than embraced her legacy, serving as CEO of the King Center, which her mother founded in 1968 to carry on her father's work. But that doesn't mean it's always an easy burden to bear, particularly when you're expected to respond every time things go awry in the world.
"It depends on what day of the week it is and how much I've had to deal with that week," Dr. King jokes. "Somedays, I feel it's an honor to be able to be a voice in these times, to represent a powerful, needed legacy," she says sincerely. "Sometimes, I do feel like everybody else, you know, when will it end?"
But like her parents, who risked their very lives for the movement, Dr. King said she always pushes through. "I come back to my center and say look, you've lived long enough now to know the reality of our world; good and evil are present," she says. "And so you can't get tired... it doesn't mean that you can't take a break. It doesn't mean you don't have moments where you're a little exasperated, but your soul and your spirit can't get tired. Your physical body will. You might get mentally tired. But your soul and your spirit can't get tired."
However, that doesn't mean she's prepared to have the same conversations over and over again for the rest of her life. "I've been in many rooms since I was a teenager where we were talking about the problems of the world. And some of the same conversations we're having today, we've had when I was a teenager," she says. "So I'm at a place now where I don't want to be in that room anymore. I want to be in the room where people are really talking about solutions."
In part three of our multi-part conversation with Dr. King, we finally talk about solutions. You can check out part one here.