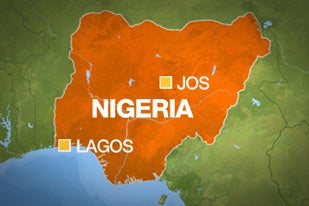 According to Al Jazeera,  violence between Christians and Muslims northern city of Jos, Nigeria has left dozens dead and over 100 injured.
Violence erupted on Sunday over the rebuilding of homes destroyed in 2008 clashes between the two religious groups, residents said, although reports as to why the latest round of fighting broke out varied.

According to the Associated Press, Muslim youths set fire to a church filled with worshippers, starting a riot that saw mosques and homes burnt.

But the AFP news agency said the unrest was sparked by youths protesting the building of a mosque in a predominantly Christian area.

Police said on Monday that the situation was under control and an evening curfew was in place.

"Security personnel have succeeded in quelling the unrest and restoring calm in the affected area of the city," Mohammed Lerema, Plateau State police spokesman, told AFP.