Truth—we may have to dial back the Public Enemy lyrics from "Fight The Power": "Most of my heroes don't appear on no stamps."
Because, frankly, since the Black Heritage Stamps series started, most of my heroes do, in fact, appear on stamps. From Malcolm X and Ida B. Wells to Harriet Tubman and Benjamin Banneker, the series gives me some small semblance of joy when I actually send a missive or bill through "snail mail."
The U.S. postal service just announced that Dorothy Height will be honored as the 40th stamp in the Black Heritage Forever series. The painting of Height is based on based on a 2009 photograph shot by Lateef Mangum. Art director Derry Noyes designed the stamp.
Height was a tireless activist who dedicated her life to fighting for racial and gender equality. She lived a remarkable life that was in service to her community but African-American women in particular. Although she rarely gained the recognition granted her male contemporaries, she became one of the most influential civil rights leaders of the 20th century. She was the president of the National Council of Negro Women for forty years and was awarded the Presidential Medal of Freedom in 1994.
G/O Media may get a commission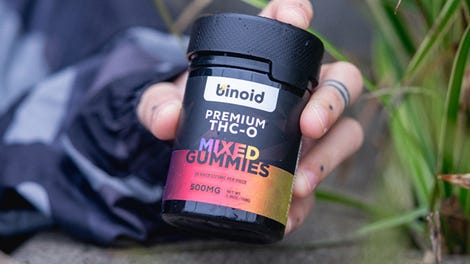 25% Off + Free Shipping
Binoid THC-O Gummies
In 1990, Height, along with 15 other African Americans, formed the African-American Women for Reproductive Freedom. She served as national president of Delta Sigma Theta sorority from 1947 to 1956; was the chairperson of the Executive Committee of the Leadership Conference on Civil Rights; and an honored guest at the inauguration of President Barack Obama on January 20, 2009, where she was seated on stage.
Height is the 15th African American woman to appear in the series. The stamp will be available in 2017.