December has been wild within the Cardi B & Offset saga.

Earlier in the month, Cardi announced she was breaking up with her husband of a year and father of daughter, Kulture. Then, Offset ambushed her at work in an awful attempt to win her back. She was visibly (and rightfully) annoyed. No dice.
Soon after dropping her best visual work to date and continuing to be the bad bitch she is, TMZ unleashed a photo of the complicated couple on vacation in Puerto Rico. The pair appeared to be jet skiing into "reunited and it feels so good" bliss.
Cue "Oh no baby, what is you doing?!" and "we were all rooting for you!" exclamations.

Whoa, whoa, whoa, you got too much dip on your chip!
Before anyone has a chance to whip out the thinkpieces, let's clear up some things here. Cardi B's and Offset's jet ski adventure wasn't the happily-ever-after scene from a rom-com, she was just jet skiing onto some dick. She wanted the D—the trash man attached to it just happened to come with the package.
G/O Media may get a commission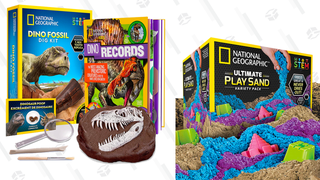 Up to 33% off
National Geographic Science and Activity Kits
"I just had to get fucked, that's all," the "Money" rapper said on Instagram, per People. In other words, Offset's "plan" didn't "work" so much as she wanted that work.
She already told us how much the schlong held her hostage.
"Oh my God, my gag reflexes are leaving because I haven't sucked dick in a long time," Cardi had exclaimed in mid-December. "I miss the dick."
Whoop, there it is. Cardi was foreshadowing her whole entire motive for y'all.
"Bitch feels baptized," she noted of her Puerto Rican peen excursion. "I came back to fuck life, bitch."
Hallelu.
See, this is the core behind what makes Cardi so popular: she's relatable. Pretty sure a lot of women can relate to being caught slipping. It doesn't mean there's going to be some grand romantic overture or a reconciliation... it's really just about the D. Simple.
Get it how you live it, Cardi.