is an intern at The Root and senior journalism major at Howard University.
Michael Jordan
He has majority ownership of the Charlotte Bobcats basketball team. In 2006, Jordan became a managing partner of the team. In 2000, he bought part of the Washington Wizards and got a piece of the NHL Washington Capitals. Observers wonder if Jordan can now reverse his history as a mediocre basketball exec, and make the 'Cats a winner. Read Frank McCoy's take, on The Root.
Robert L. Johnson
In 2003, the creator of Black Entertainment Television paid $300 million for majority ownership of the Charlotte Bobcats in 2003. He had tried to buy the Bobcats' predecessor, the Charlotte Hornets. The year he bought the 'Cats, Johnson joined a group trying to buy the Montreal Expos.
Nelly Buys A Share
G/O Media may get a commission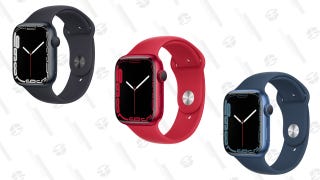 Up To $45 Off
Apple Watch Series 7
After Bob Johnson purchased the Bobcats and the WNBA's Charlotte Sting, he brought on limited partners, including Boston Celtic M.L. Carr, rapper Cornell "Nelly" Haynes, Jr., and prominent African Americans in North Carolina.
The Negro Leagues of Other Sports
During segregation, blacks started, bought and sold basketball, baseball and football leagues, and teams. Fritz Pollard, the first black coach in the NFL, previously coached the black barnstorming teams—the Chicago Black Hawks and the New York Brown Bombers.
Bertram Lee and Peter Bynoe
They were the first blacks to become managing general partners of a major pro sports franchise. In 1989, Lee, Bynoe, tennis pro Arthur Ashe, and then-Democratic National Chairman Ron Brown, bought the Denver Nuggets for $65 million. (Peter Bynoe is pictured.)
Sheila Johnson
The former wife of Robert Johnson and co-founder of BET, Sheila Johnson is the team president, managing partner, and governor of the WNBA Washington Mystics, and co-owns the NHL Washington Capitals and the Washington Wizards. Sheila's got game.
NBA Limited Partners
Past and current co-owners include former ballers Magic Johnson (Los Angeles Lakers), Isiah Thomas (Toronto Raptors) and David Robinson (San Antonio Spurs); entertainers Jay-Z and Bill Cosby (New Jersey Nets), Usher (Cleveland Cavaliers); and entrepreneurs Edward Gardner and his wife, Bettian, who is co-founder of Soft Sheen (Chicago Bulls).
Reggie Jackson
The Baseball Hall of Fame hitter struck out twice in attempts to be the first black managing partner of a pro baseball team. In 1997, Jackson's group had $305 million to buy the Los Angeles Dodgers. Then Rupert Murdoch offered $311 million. In 2005, another Jackson-led group couldn't snag the Oakland Athletics. Watch Jackson's highlights.
The Washington Nationals
The team's multiethnic ownership group has six black limited partners. They are former Secretary of Transportation Rodney E. Slater, NFL Today host James Brown, a lobbyist, a BET executive, an information technology entrepreneur, and the CEO of Washington's largest black-owned bank.
Hank Aaron
Major League Baseball has few black limited partners. They have included Hall of fame player Hank Aaron and individuals with pieces of the Atlanta Braves, Texas Rangers, Kansas City Royals and the Tampa Bay Rays.
J. Bruce Llewellyn
The serial entrepreneur expected to own a sports team. In the late 1980s, he looked at the Seattle Seahawks, but thought it was overpriced. A decade later, he and his son-in-law, author Tom Clancy, made a run at the Minnesota Vikings. The purchase fell apart, when Llewellyn underwent heart surgery.
Reggie Fowler
In 2005, it appeared that Arizona entrepreneur Reggie Fowler tried to buy the Minnesota Vikings. After the deal unraveled, he became a Vikings limited partner.
David Steward
In 2009, David Steward, founder and chairman of $2.5 billion World Wide Technology, was part of a group interested in buying the St. Louis Rams. Alabama entrepreneur Donald Watkins was with another group that went after the Rams. Neither succeeded. Will they join forces?
Serena and Venus Williams
The future tennis Hall of Fame siblings joined Gloria and Emilio Esteban, as limited partners in the Miami Dolphins franchise, and all wrote seven-figure checks for the honor and the skybox seats.
Kirbyjon Caldwell
President George Bush's favorite preacher, Kirbyjon Caldwell, is a Houston Texans limited partner. Watch him pitch here.
Victor B. MacFarlane
MacFarlane took a different path to sports ownership. In 2007, the real estate investment management mogul and his partner, Will Chang, split the $33 million price for DC United of Major League Soccer. MacFarlane sold his share to Chang in 2009.
Walter Payton
In 1995, Payton became a co-owner of the Payton/Coyne Racing in the CART Indy Car World Series. Four years earlier, "Sweetness" had tried his hand as a race car driver. In 1999, the year the Chicago Bears Hall of Fame running back died, he became co-owner of an Arena Football team.
Brad Daugherty
The former NBA all-star center for the Cleveland Cavaliers, is co-owner of JTG Racing. In 1988, he went from the court to the track with a NASCAR Craftsman Truck Series team. Daugherty's driver, Marcos Ambrose, won the Zippo 200 race at Watkins Glen in 2009 and 2008.
Randy Moss
The 50 percent co-owner of Randy Moss Motor Sports is a burner on the gridiron and the race track. Two years ago, the NFL New England Patriots All-Pro receiver invested in David Dollar's NASCAR Camping World Truck Series team.
Michael Jordan Redux
Think his Airness only cares about basketball? In 2004, he started Michael Jordan Motorsports, as the sole owner. The company fields two motorcycle racing teams that participate in the top category of the American Superbike class. Take a spin on the fast track. Jordan also rides.