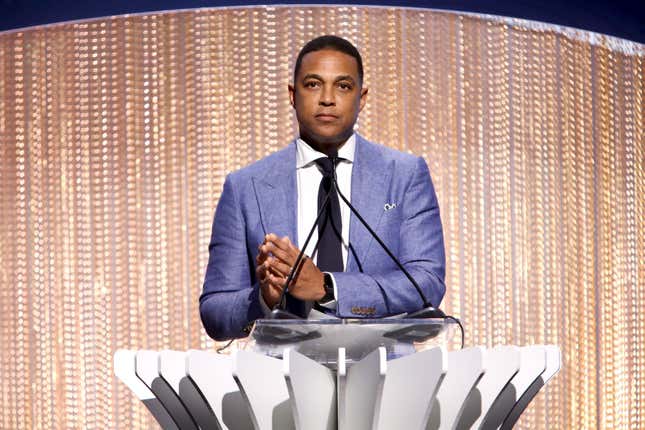 A New Jersey bartender has filed a lawsuit against CNN anchor Don Lemon for an alleged assault that took place in a Hamptons, N.Y., bar last summer. Filed on Sunday, the suit seeks unspecified damages for the "demeaning, unprovoked and offensive assault."
American Ninja Warrior: Season 15 Is Our TV Pick of The Week
First reported by Mediaite, Dustin Hice claims Lemon assaulted him in July 2018 at Murf's Backstreet Tavern, after Hice had wrapped up a bartending shift at another bar. But CNN says Hice resorted to filing the lawsuit only after a failed attempt to extort Lemon.
"Don categorically denies these claims," a CNN spokesperson told USA Today.
According to Hice's complaint, he came across Lemon while out with friends at the tavern, and offered to buy Lemon a drink (a "Lemon Drop" to be precise), which the TV personality declined. Hice says the two men stayed socializing with their respective groups of friends and had no further interaction until later that night when Lemon approached Hice and his group.
"(Lemon) put his hand down the front of his own shorts, and vigorously rubbed his genitalia, removed his hand and shoved his index and middle fingers into (Hice's) mustache and under (Hice's) nose," Hice claims.
Lemon then asked Hice if he liked "pussy or dick," while continuing to put his fingers in Hice's face "with aggression and hostility," the lawsuit says. Hice left the bar shortly after.
CNN disputes Hice's account, saying Hice "has previously displayed a pattern of contempt for CNN on his social media accounts," according to the Hill.
"This claim follows his unsuccessful threats and demands for an exorbitant amount of money from Don Lemon," CNN added. "This matter does not merit any further comment at this time."
Mediaite, citing "an associate of Lemon's," says Hice asked Lemon for $1.5 million to keep quiet. Hice also took down his social media accounts the day he filed the lawsuit, but Mediaite says it found an Instagram post from January 2017 from what is believed to be Hice's account "[showing] him posing in front of CNN's headquarters in Atlanta along with the caption: 'touring the #CNN center today…or as #Trump would say 'the home of Fake News' lol.'"
Lemon, as one of CNN's marquee stars, has frequently been targeted by Donald Trump, right-wing media sites and conservative trolls for his sharp criticism of the president and the Republican Party. But an attorney for Hice rebutted CNN's claim, saying, "the assertion that Mr. Hice would put himself through the painful process of filing a sexual assault lawsuit against his attacker all because he doesn't like a cable TV station is ludicrous."
"He took down his social media accounts on the day he filed the lawsuit against Don Lemon because he's a private citizen and wants to protect himself from CNN's heavy-handed tactics," the attorney said, according to the Hill.
Hice is seeking unspecified damages due to severe emotional distress, which resulted in illness, mental harm, and loss of earnings.
Corrected: Wednesday, 8/14/19, at 1:30 PM, ET: A previous version of this story described the lawsuit as a "sexual assault" complaint. Dustin Hice is suing Don Lemon for assault.