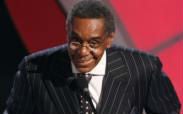 An article suggests that the creator, owner, producer and host of Soul Train, who died of a self-inflicted gunshot wound to the head last month, was underappreciated while he was alive. And he may have died knowing it.
Read an excerpt from the New York Times:
"You pick the 20 most important people in the 20th century, and Don would be in the top 10," Mr. Avant said over breakfast recently, his eyes welling up. "But he never got on the cover of Ebony magazine or Black Enterprise. I'll never understand that."
DON CORNELIUS'S last years were not his best. He had gone through a bitter divorce with his second wife, Viktoria Chapman-Cornelius, a Russian model he married in 2001. He was struggling in recent years with his health, experiencing intense headaches, occasional seizures and social anxiety.
"Don was an extremely private person," Mr. Avant said. "He didn't want to share something unless he had to, or unless he thought it would make you happy or think about something."
Despite his isolation, Mr. Cornelius inspired outpourings of grief after his death. Scores of singers, dancers and superstars said they owed their careers to him. At the funeral, Smokey Robinson and Stevie Wonder spoke about their record sales exploding after appearances on "Soul Train."
Check out The Root's gallery of Soul Train memories.
Read more at the New York Times.