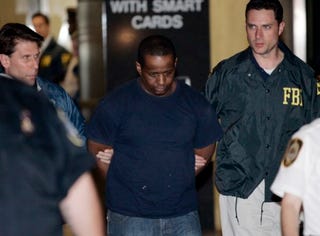 Domestic Terror Plot Thwarted in New York
According to the Washington Post, Four men—James Cromitie, David Williams, Onta Williams and Laguerre Payen—were apprehended while plotting to use C-4 plastic explosives to bomb two Jewish centers in the Bronx, New York. The men also planned to shoot down Air National Guard planes with Stinger surface-to-air guided missiles. Stuff like this kind of makes you miss idiots throwing boxes of tea bags on the White House lawn, no?
LeBron Has Career Night, Rest of Cavs Don't as they Fall 106-107 to the Magic
The Cavaliers were hot early—roles players getting involved, points in transition, vicious blocked shots, buzzer beaters from 3/4s court—and this was before LeBron put on a 49-point clinic in which he shot 70% from the field. But the Magic kept chipping away and in the end, the game came down to their specialty: Rashard Lewis' 3-pointer with 15.2 seconds left.
Obama: 'Yes We Can Close Gitmo!', Senate: 'Pump Your Brakes, Barry, Pump Your Brakes'
Al-Jazeera News reports that in a landslide 90-6 vote, the US Congress has rejected President Obama's proposal to tranfers prisoners from Guantanamo Bay and close the facility by 2010, a move for which Obama requested $80M. More than the security issues that such a move would involve, the general sentiment seems to be that no one wants these prisoners to become burdens of their states'.
Nas Wants to be Divorce Revolutionary, Will Likely Be More Denmark Vecsey than Toussaint L'Ouverture
Over at The Run Down, it appears singer Kelis—who is divorcing rapper Nas—is asking for spousal support to pay lawyer fees aka 'can you let me hold some money so I can divorce you?' because she's preggers and can't work. Oddly enough, Nas isn't interested in being divorced with his own money or giving her any money for that matter. Yikes. Both have accused the other of infidelity, though Mrs. Jones might have been caught on tape (not with Billy Paul though).