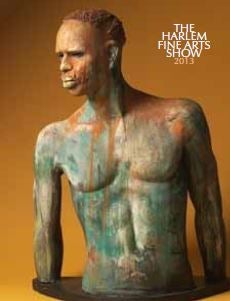 (The Root) — The creative talent of many notable and emerging contemporary artists of the black Diaspora will be on full display at the fourth annual Harlem Fine Arts Show. This year's showcase will honor the late Percy E. Sutton, a prominent civil rights leader, businessman and avid art collector.
This year HFAS expands to four days, with festivities kicking off on Thursday, Feb. 7, and running through Feb. 10 at Riverside Church. The opening-night gala will be hosted by Extra correspondent A.J. Calloway, former co-host of BET's 106 & Park. The cast of Mama, I Want to Sing will perform at the gala, as will the cast of Motown: The Musical, the upcoming Broadway show on the life and legacy of R&B mogul Berry Gordy.
The multicultural exhibit will feature works from many prominent artists, including Dane Tilghman, whose vibrant paintings depicting African-American life have appeared on TV shows such as The Cosby Show and Roseanne; George Nock, a former NFL running back and self-taught artist whose bronze sculptures have earned international acclaim; and Michael Escoffery, a Jamaican-born visual artist whose paintings and sculptures have been displayed in galleries around the world and featured in more than 70 books.
Other events over the four days include a youth-empowerment day and Motown Night, featuring performances by the cast of Motown: The Musical.
All activities will take place at Riverside Church, 91 Claremont Ave., in Harlem. Tickets are $20 each day or $50 for a weekend pass. For more information or to purchase tickets, visit hfas.org or call 914-980-4427.
Previous recommendation: UNCF Honors Students and Stars.
Got ideas for The Root Recommends? Send them to recommendations@theroot.com.