Many people are surprised to learn that a great painting from the 17th century was the work of a former slave of African descent. Not all the staff at the Ringling Museum in Sarasota, Fla., knew that the painting, The Flight Into Egypt (1658), depicting the perilous journey of Joseph and Mary with the baby Jesus, was created by an enslaved African Spaniard. 
But I knew and had known since I first became acquainted with the artist in 1966 during my search for children's books reflecting my children's heritage. That year, the winner of the prestigious children's book award the Newbery Medal was titled I, Juan de Pareja. It is a fictionalized autobiography about the enslaved assistant to the famous Spanish painter Diego Velázquez. 
I have issues with the book's depiction of Juan de Pareja as irresolute, but young student readers with whom I have worked quickly rise above that problem and recognize the courage, persistence and skill that de Pareja demonstrated in teaching himself to paint in secret by candlelight. He refined his talents as a painter although Spanish law prohibited slaves from joining the artists' guild and practicing the craft.
De Pareja was born enslaved about 1610 in Antequera, Spain, and his life has not been well documented. His mother was an enslaved Moor, known only by her first name, Zulema, who died during his early childhood. His father's name was also Juan de Pareja, but no further information has surfaced in the literature about either parent. Diego Velázquez apparently inherited the slave de Pareja from an aunt before the boy had reached his teens. Clear evidence of de Pareja's literacy is shown in documents that he signed during his adult life. He died in Madrid in 1670.
De Pareja, who was enslaved for nearly 45 years, is best known from the extraordinary portrait of him that Velázquez painted in 1650, four years before freeing him. In 1971, the Metropolitan Museum of Art in New York bought the portrait for $5.5 million. Much has been written about this famous portrait. However, the problem has been that the focus has been on Velázquez's skill as a painter, rather than on the person portrayed. 
G/O Media may get a commission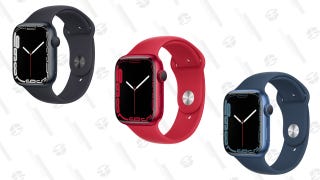 Up To $45 Off
Apple Watch Series 7
But I wanted to know: Who was this black man named Juan de Pareja?  What was his life story, and what did he paint? My nearly 50-year search to answer those questions led me to the Ringling Museum when I learned that the only signed and dated painting by Juan de Pareja exhibited in the United States was here in Sarasota. That painting is The Flight Into Egypt. 
When I first saw the painting, I marveled at the perilous journey of that canvas from de Pareja's easel in 1658 to its current museum position next to a painting by Pareja's former owner, Velázquez. It was a journey of persistence and, finally, acknowledgment. After viewing the painting, I made a presentation in April 2013 about de Pareja's life and work to the Manasota Branch of the Association for the Study of African American Life and History in Sarasota. After my presentation, more than 40 members of the ASALH branch joined me at the museum to see de Pareja's painting, expressing enthusiasm for the historical significance of this more than 350-year-old artifact of the African Diaspora.  
ASALH members strongly support collaboration with the Ringling Museum, the North Sarasota Public Library and the Emma Booker Middle School, where I worked with the teacher and eighth-grade students who read de Pareja's biography. I accompanied the students on a field trip to view the painting at the Ringling Museum and to visit the art library. To show families and friends what they learned, the students' culminating project was a creative presentation including original poetry, Baroque and Spanish music, historical PowerPoints, essay talks and a dramatic duet. Students described their enthusiastic engagement in learning about history through the life of an enslaved artist who worked hard, never gave up and rose from slave to master artist.
Perspective is everything in anyone's worldview, and my perspective, dedicated to uncovering the facts about the life of a 17th-century black man, marginalized in history and art, led me to discover a rare museum treasure.
There is more good news. De Pareja's painting and Diego Velázquez's painting of him will be featured at an exhibition at the Louvre in Paris in March 2015. Don't miss it!
Vivian R. Johnson, Ed.D., is a retired associate professor of education from Boston University with a lifelong interest in the African Diaspora.