Egypt, I'm Here
In a recent trip to Egypt, Jonathan Pourzal volunteered with the South Asasif Conservation project. Take a look at a few photos of his experience and then read more about it as he excavates Egypt's black history and chases the past in the land of the Kemites.
On a Mission
The second ASA Restoration Project mission team of summer 2010.
To Restore a Tomb
G/O Media may get a commission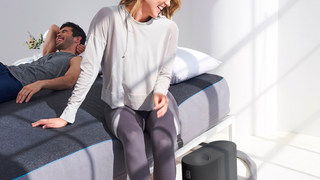 Eight Sleep Pod Cover
Jonathan Pourzal assists two of the conservators to restore one of the columns in the tomb of Karakhamun.
Registering Tomb Remnants
Each recovered fragment of the tomb must be "registered," which consists of taking detailed notes that include a fragment's pigmentation, condition, type of damage and much more.
Putting the Pieces Together
Reconstructing the beautifully carved and painted walls and ceilings of the tomb is no easy task. It takes extensive detective work and craftsmanship.
Mastering Masonry
Pourzal assists a master stonemason in manually cutting a limestone block to be inserted into a restored tomb column.
Finding Hidden Treasures
Egyptian workers must sift through endless fragment piles of the tomb's limestone walls and ceilings.
Leading the Mission
Pourzal with Anthony Browder, who led groups on both a study tour and an excavation this summer.
Facing Egypt
Relief of Karakhamun on the wall of his tomb.
The Valley of the Nobles
Intricate relief carvings in a tomb at the Valley of the Nobles in Luxor.
Limestone Heave
Egyptian workers carry limestone blocks down a long ramp into the tomb.
Deep in the Tomb
An overhead view of the tomb and the excavation process.
Hot Sun, Hard Work
The master stonemason of the South Asasif Project manually chisels limestone blocks under the hot Egyptian sun.
Exploring the South Asasif Valley
Anthony Browder leads a tour of the tombs of the South Asasif Valley.