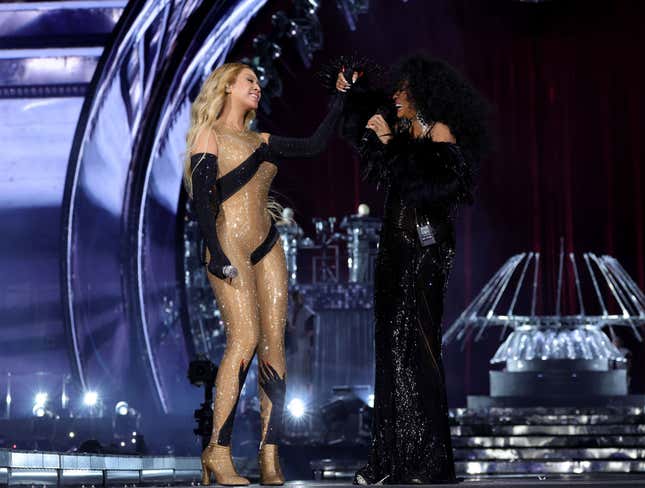 Beyoncé celebrated her 42nd birthday on Sunday and got the most glamorous birthday gift at her Los Angeles concert: a surprise performance by Diana Ross.

Music Producer & Beyoncé Collaborator, Dixson, Plays That's So Random
The icon Diana Ross surprised hit the Renaissance Tour stage during one of Bey's intermissions. Ross walked onto the scene in a gorgeous black, sequined gown with feathered sleeves and, of course, her classic big hair.
As she strutted down the steps she sang her 1976 Grammy-nominated hit "Love Hangover." As she nears the end of the song, the birthday girl sprinted onstage to the Motown legend like a kid on Christmas morning.
The two superstars embraced each other and Bey has her fangirl moment saying her thank yous. Ross then asked the crowd to wave their phone flashlights in the air as she led in singing "Happy Birthday."
Beyoncé thanked her iconic friend, "This is amazing. This is the legendary Diana Ross. I want to thank you so much for all of your sacrifices, your beauty, and your grace. Thank you for opening doors for me." Diana responded, "You sang Happy Birthday for me, so I wanted to sing it to you."
Beyoncé attended Ross' 75th birthday party in 2019 and led the "Happy Birthday" song.
The "Formation" singer opened her show with an emotional speech saying, "I'm thankful to be alive. I'm thankful to be on the stage. I'm thankful to look out and see your faces. I'm thankful to be able to provide a safe space for all of y'all… I'm thankful for every tear, for every year…I'm thankful for all you guys who have been with me since 1997."
Last night's BeyDay performance was more like a party as tons of celebrities like Kelly Rowland, Chris Rock, Lizzo, Zendaya and Tom Holland, the Kardashian family, Vanessa and Natalia Bryant, and more showed up. Bey has spent three nights in LA and it's one of the only cities that has featured guest performances for the concerts. For her birthday she had Kaytranada, Kendrick Lamar, and of course, Blue Ivy Carter.