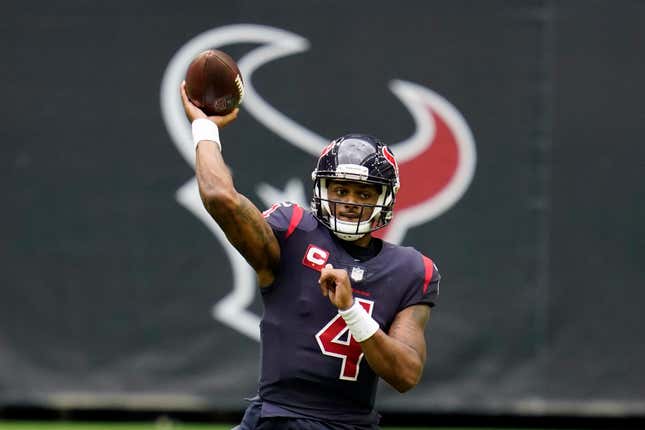 There's only one sports euphemism appropriate for a trade of this magnitude: Holy shit.

After a weeklong frenzy that had NFL executives lining up to mortgage their teams' futures for the right to bring him in, the Cleveland Browns have won the sweepstakes for quarterback Deshaun Watson, according to The Athletic. The Browns had reportedly been eliminated from contention from his services, with the rival New Orleans Saints and Atlanta Falcons appearing to be the last teams standing.

They weren't.

Watson is considered a generational talent but also still has the massive cloud of 22 pending sexual misconduct civil lawsuits over his head. He didn't play all of last year for his former team, the Houston Texans, while a criminal investigation that ended last week without any charges played out. He still faces the likelihood of being suspended by NFL Commissioner Roger Goodell for a significant part of the 2023 season.

From The Athletic

Cleveland is trading three first-round picks and two additional picks to the Texans for QB Deshaun Watson, a source told The Athletic. The move is a stunning reversal from earlier this week, when the Browns were reportedly ruled out of the running. Watson's decision was thought to be narrowed down to the Saints and Falcons.
The blockbuster trade all but assures it's the end of the line in Cleveland for their former number-one draft pick Baker Mayfield, who led the team to its first playoff win in a generation but was also uneven in his play. On Tuesday, Mayfield posted a goodbye letter to the city of Cleveland on his Twitter and demanded a trade, though the Browns said they weren't open to dealing him.

As recently as this morning, the Browns were reported to have been sidelined in the chase for Watson's services; Watson had a no-trade clause that gave him the ability to veto a deal to move him to any team he disliked.

Apparently, either those reports were wrong or Watson had a change of heart.