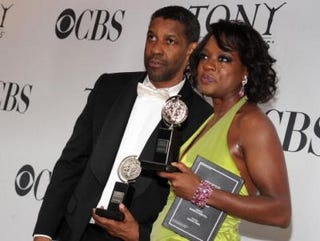 Red was the big winner at the 2010 Tony Awards, winning best play and five other awards. Other highlights of theater's biggest night of the year include:
"Memphis," the rhythm 'n' blues musical set in the American South in the 1950s, won four Tonys, including best musical. A tale of segregation and integration, "Memphis" was also cited for best orchestration, original score and best book of a musical.
Three Hollywood stars, Catherine Zeta-Jones, Denzel Washington and Scarlett Johansson, were first-time nominees and winners.
"Fences," a revival of August Wilson's deeply personal drama about family, won for best revival of a play and its two stars, Washington and Viola Davis, won for best actors in a play. Even their acceptance speeches seemed to complement each other.
"My mother always says, 'Man gives the award, God gives the reward.' I guess I got both tonight," Washington said after winning for his performance as the sanitation man who might have been a baseball star. It was his first Tony Award and nomination.
"I don't believe in luck or happenstance. I absolutely believe in the presence of God in my life," said Davis, honored for playing Washington's all-sacrificing wife. "It feels like such a divine experience eight times a week."
SOURCE: The Hollywood Reporter
Here's a full list of the winners.