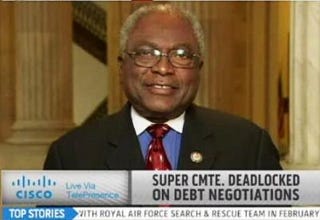 Will the bipartisan congressional "super committee," tasked with finding $1.5 trillion in budget savings, reach a meeting of the minds in time to for its Nov. 23 deadline? Super-committee member Rep. James Clyburn weighed in with NBC's Andrea Mitchell on Thursday. He also had words for Herman Cain, who called Democratic House leader Nancy Pelosi "Princess Nancy." Watch:
Visit msnbc.com for breaking news, world news, and news about the economy
Check out what President Obama had to say about the impasse on Friday at the Los Angeles Times.
In other news: Muhammad Ali to Attend Joe Frazier's Funeral.