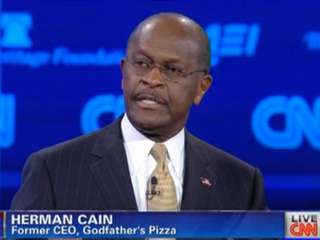 Answering whether he was in favor of profiling, Cain responded that he favored "targeted identification … if you take a look at the people who are trying to kill us." … In response to [Wolf] Blitzer's follow-up, Cain responded, "No, Blitz, that's oversimplifying it!" The crowd laughed, though Cain didn't notice and continued his answer, until stopping after sometime, halfway, turning to Blitzer and saying, "I'm sorry Blitz — I meant Wolf!"
Source: Mediaite.
The slip-up by the famously informal GOP hopeful appeared to be unintentional. Of course, the real news is that he and several other candidates seem to quite consciously want to nickname Muslims "people who are trying to kill us" for purposes of profiling.
Watch the segment via CNN below:
Read more at Mediaite.