Remember that anti-choice billboard in New York City depicting the image of a pensive 6-year-old girl in a red sleeveless summer dress beneath the ominous words, "The Most Dangerous Place for an African American Is in the Womb"?
Planned Parenthood called it "an offensive and condescending effort to stigmatize and shame African-American women while attempting to discredit the work of Planned Parenthood." (Not to mention, the mother of the girl featured demanded an apology from the ad's creators, an organization called Life Always.)
That board was taken down. But now, according to similar ones sponsored by the Latino Partnership of Conservative Principles, Latina wombs are equally dangerous territory.
ColorLines reports that new billboards appearing in Los Angeles this week follow the same formula, replacing "African American" with "Latino," and advertise a "Spanish-language medical distortion site," unidosporlavida.org. It adds that the organization behind the campaign "consist[s] of a couple of brown folks fronting for the ridiculously homophobic American Principles Project."
More from ThinkProgress:
The billboard campaign was launched this week in part to "kick off" the "Unidos por la Vida" (United for Life) event being held at the Los Angeles Sports Arena this Sunday, which will feature anti-Planned Parenthood activist Lila Rose and Texas Gov. Rick Perry (R). Unidos por la Vida benefits the anti-choice Latino group Manto de Guadalupe, which was founded by actor Eduardo Verastegui in December 2005 with the mission of "promoting adoption."

G/O Media may get a commission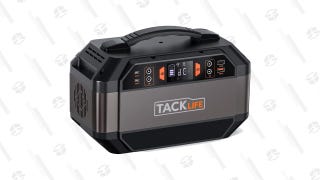 Tacklife Portable Solar Generator
The attempt to attack minority women with race-based guilt and humiliation (again) is offensive, but what's really infuriating is that by targeting organizations like Planned Parenthood, which provides health services needed to help prevent abortion as a last resort, the groups behind these campaigns are actually exacerbating the causes of the higher abortion rates in minority communities. But we guess that if it takes more words to explain than you can fit on a billboard, they're not paying any attention.
Read more at ThinkProgress and ColorLines.
In other news: Civil Rights Pioneer Clara Luper Dies.