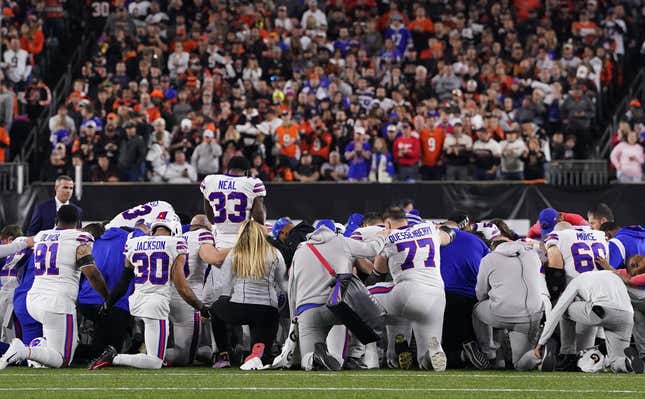 Updated 1/5/2023 at 11:19 a.m. ET: 
It appears that Buffalo Bills safety Damar Hamlin's recovery is making even more progress than originally expected. The team released a statement on Thursday noting his "remarkable improvement."
Is It Safe To Visit Family This Holiday?
"Per the physicians caring for Damar Hamlin at the University of Cincinnati Medical Center, Damar has shown remarkable improvement over the past 24 hours," the Bills said in a statement. "While still critically ill, he has demonstrated that he appears to be neurologically intact. His lungs continue to heal and he is making steady progress. We are grateful for the love and support we have received."
The words "neurologically intact" are the most crucial part of this update, as there was concern that being without oxygen for nearly nine minutes as he was administered CPR would result in damage to neurological functions.
This is truly miraculous news for Damar, his family, friends and teammates.
See the original story below:
As the football world continues to root for the full recovery of Buffalo Bills safety Damar Hamlin, some good news about the 24-year-old player's condition has been released. The Bills have revealed that he is improving, though he's still in the ICU.

"Damar remains in the ICU in critical condition with signs of improvement noted yesterday and overnight." the team said in a statement on Wednesday. "He is expected to remain under intensive care as his health care team continues to monitor and treat him."
Damar's family also has good news, as those closest to him seem encouraged by the University of Pittsburgh alum's progress. Hamlin's marketing rep and friend, Jordan Rooney, told ESPN's Coley Harvey that "doctors saw promising readings overnight from Hamlin that they had hoped to see by Wednesday morning."
While they remain concerned about their teammate, Bills players must also turn their attention to playing the New England Patriots on Sunday. According to ESPN's Adam Schefter, the team received a little positivity on Wednesday, when Damar's father spoke with them.
"Damar Hamlin's father, Mario Hamlin, addressed the entire Bills team on a zoom call Wednesday to personally update everyone in attendance on his son, per source," Schefter tweeted. "Mario Hamlin informed the Bills that Damar was making progress and, in the words of one source, 'the team needed it.'"
The sports world was rocked on Monday night when Hamlin collapsed on the field after taking a hard hit, suffering what we now know was a cardiac arrest. Visibly shaken players from the Bills and their opponents the Cincinnati Bengals looked on in horror as Hamlin was administered CPR for nine minutes. Thankfully, he was revived, then rushed to the University of Cincinnati Medical Center, where he remains in the intensive care unit.
Hamlin's story has reached well beyond the sports world, with President Biden telling reporters on Wednesday that he spoke with Damar's parents. When asked if he thought the NFL was too dangerous, he noted that the league has made several strides in safety, but ultimately some injuries and accidents can't be avoided.
"The idea that you're gonna have…you've got guys that are 6'8, 340 pounds running a 4.8 40," Biden said. "If you hit somebody with that kinda force, now that's not what happened here, but I just think it's—I don't know how you avoid it."
The one truly beautiful part of this story is how fans have rallied around Damar's GoFundMe for his toy drive, The Chasing M's, which as of this writing has reached $7 million.
Damar Hamlin has a long road ahead of him, but these small signs of positivity give everyone reason to stay hopeful.