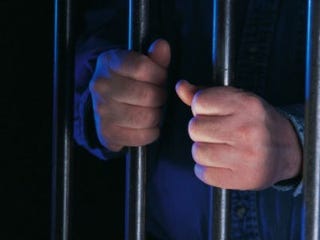 Last June the U.S. Sentencing Commission finally corrected what was widely understood to be a racialized disparity: Crack offenders (84 percent of whom were African American) were given the same mandatory five-year minimum sentence as were offenders in possession of 100 times as much powder cocaine (about 30 percent of whom were African American). 
The commission voted unanimously to redress what it called the "fundamental unfairness" of the old law by allowing prisoners convicted before it was changed to seek to reduce their sentences.
Today is the day that federal prisoners who have petitioned for reduced sentences under rules Congress passed last year were able to begin to be released.
In a piece for MSNBC this week, Alex M. Johnson says that there's no reason to believe thousands of "crackheads" are going to start flooding America's streets as a result.
First, the new policy applies only to those convicted in federal court — the tens of thousands of crack-cocaine convicts in state prisons aren't affected. And it effectively applies only to those federal prisoners convicted after 2007.
Second, the reduction isn't automatic; prisoners must go before federal judges, allowing for potentially dangerous or violent offenders to be screened out. 
Third, a study by the Sentencing Commission showed that crack-cocaine offenders who were released early were actually less likely than members of a control group to reoffend.
Most significant, Johnson points out that the new policy doesn't actually wipe out the disparity in cocaine sentencing. While the crack-possession-to-powder-possession sentencing ratio isn't 100:1 anymore, it's still 18:1 — meaning that you can have 18 times more powder cocaine than crack in your possession and still receive the same minimum sentence.
So maybe what people should really be worried about this week is not that "crackheads" will be released and come to get them, but rather that the law behind this development is still inexplicably unfair in a way that has everything to do with race.
Read the U.S. Sentencing Commission statement on new guidelines (pdf).
Read more at MSNBC.
In other news: GOP Group Slammed for Image of Obama Shot in Head.

Like The Root on Facebook. Follow us on Twitter.