Court records from a 17-year-old sexual assault case against Charlamagne Tha God show that his DNA did not match samples taken from his accuser's rape kit.
Jessica Reid, who was 15 at the time of the alleged assault, had spoken out earlier this month about potentially re-opening a rape case against the popular radio host, whom she claims raped her at a 2001 house party in South Carolina.
Screenshots of the court documents were obtained by The Blast and posted on their site on Friday (the full lab report is also available on Bossip). The evidence collected from Reid included fingernail scrapings and vaginal, oral, and rectal swabs. The report confirms that Charlamagne, also known as Lenard Larry McKelvey, voluntarily submitted blood and semen samples, as he had previously stated, and that none of his DNA was found on Reid.
On July 12, South Carolina solicitor announced that McKelvey's rape case would not be reopened because he and the state had already reached a plea agreement in the case.
G/O Media may get a commission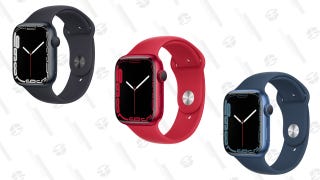 Up To $45 Off
Apple Watch Series 7
McKelvey pleaded guilty for contributing to the delinquency of a minor.
"The prosecutor made this agreement because of the victim's absence and the lack of evidence available at the time," Wilson said about the case.
Charlamagne spoke about the release of the documents on a Friday taping of The Breakfast Club, the syndicated morning talk show he co-hosts.
"The documents show that I did everything in my power to fully cooperate with authorities before this case was ultimately dismissed," he said, according to Complex.
"And, to be honest with you, the past few weeks have really made me regret helping to create an environment that allowed something like this to take place," he added, "But I cannot take responsibility for a crime I did not commit. But, most importantly, I am praying for healing for the victim."
Complex also cited two legal and sexual assault experts who explained that a lack of DNA evidence doesn't necessarily mean what the public assumes it means.
From Complex:
"People expect DNA or scientific evidence in every case and the reality is it doesn't exist in most cases," Sangamon County Assistant State's Attorney Sheryl Essenburg said in a report by the Illinois Coalition Against Sexual Assault. "It's very much the exception."

Villanova University law professor Michelle Anderson echoed Essenburg's argument: "That leap is a misunderstanding of what DNA can and can't prove. DNA can prove sex occurred. DNA can't prove that sex didn't occur."
Reid's claims—first reported by The Blast earlier this month—drew heightened attention back to previous statements McKelvey made about having sex with women who were incoherent or could not remember their sexual encounters. During a 2015 conversation on his podcast, Brilliant Idiots, McKelvey spoke about having sex with a woman "who wasn't coherent, but she was up." He recollected how the next day, he had to inform her that they had sex. In a statement to The Root, a representative for McKelvey said that "all actions reflected upon during that conversation were consensual."
The story echoes another story McKelvey told about his now-wife.
"She was fucking me back and all that but she was really drunk. I asked her yesterday, 'Yo, did I rape you the first time we ever had sex?' And she goes, 'I mean in hindsight, yeah…'" McKelvey said at the time.
The larger conversation, in both instances, was about rape culture and re-evaluating sexual experiences that didn't seem like rape at the time.
On Friday, Charlamagne also spoke about the resurfaced audio about his wife on The Breakfast Club, interviewing her live on the show.
"Did I rape you the first time we had sex with each other?" He asked Jessica Gadsden on air.
"That's not what happened, we both know what happened and I was not passed out," Gadsden responded. "I was very coherent, like enough for me to lift off my hips so you could take my panties off."
Charlamagne is still scheduled to host a new HBO series this year called The Gray Area, which will, in his words, "provide a safe space for 'unsafe' people to curate their stores and control their own narratives." The Root has reached out to HBO for comment on CTG's previous statements about sexual assault. A representative for the premium cable service has yet to respond.