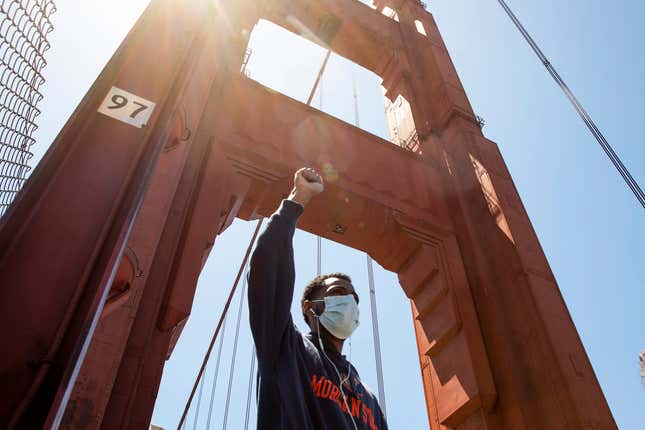 In the early hours of the morning on Tuesday, Cash App founder Bob Lee was stabbed to death in the wealthy Rincon Hill neighborhood of San Francisco. Lee was taken to the hospital, where he died, leaving behind his two children.
Are Black San Franciscans Getting $5 Million Each in Reparations?
Whenever someone in a well-off neighborhood is killed, the "tough-on-crime" subset of the population emerges from the woodwork. That's especially true in a city like San Francisco, where the issue of crime has been under a microscope.
"Violent crime in SF is horrific, and even if attackers are caught, they are often released immediately," wrote Twitter Owner Elon Musk after Lee was found murdered. "Is the city taking stronger action to incarcerate repeat violent offenders?"
The tech billionaire and noted conservative reactionary isn't the only part of the wealthy tech scene pushing incarceration as a reaction to Lee's death. "Chesa Boudin, & the criminal-loving city council that enabled him & a lawless SF for years, have Bob's literal blood on their hands. Take action," wrote venture capitalist Matt Ocko, referencing the recalled District Attorney.
Black Americans know that when people start talking about lawlessness and locking people up, bad things are typically headed our way. Just look at the "War on Drugs" in the 80s. Fear over the impact of the crack cocaine epidemic on Black Americans—or let's be real; fear over how that epidemic would impact white Americans—led to draconian policies like the infamous racially-biased 100-to-1 ratio between crack and powder cocaine. In total, the 50-year war on drugs led to the incarceration of millions of Americans, an overwhelming percentage of whom were Black. The "war" also exploded racial disparities in the criminal justice system.
What's especially concerning is that San Francisco police already have a bad track record when it comes to policing Black Americans. The San Fransisco Chronicle found that in 2020, Black people were more than six times more likely to be stopped than White residents.
Also, the data doesn't support the idea that San Francisco has a massive homicide wave. There have been 12 homicides in San Francisco this year, two more than occurred during the same period last year. One death is one too many, but the idea that in a city of over 800,000 people, stranger murder is a common occurrence doesn't match up with the facts. There's also a lot of evidence that draconian criminal justice policies like "cash bail" don't make us safer.
Even San Francisco police have warned that increased incarceration isn't the solution to violent crime. "A small minority has tried to weaponize this tragedy to advance a narrative about a crime wave that just isn't borne out by the data in San Francisco," Kevin Benedicto, a police commissioner, and lawyer, said on Thursday, according to The New York Times.
It's terrifying when a member of our society dies, and we don't have answers. And while knee-jerk reactions to lock as many people up as possible may be comforting to some, far too often Black Americans end up paying the price.