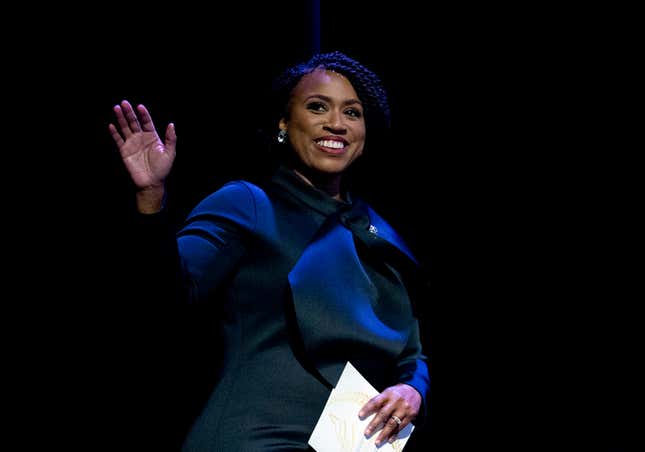 Congresswoman Ayanna Pressley (D-Mass.) will unveil on Wednesday legislation aimed at tackling America's rising maternal mortality rates, particularly among black mothers, among whom death rates related to childbirth and pregnancy are highest.
Tackling A Black Maternal Health Crisis & Embracing Reproductive Justice | The Root Institute
Introduced days before Mother's Day, the Maximizing Outcomes for Moms through Medicaid Improvement and Enhancement of Services, or the MOMMIES Act, comprises two bills: Pressley's legislation, which will be brought through the House, and a companion bill from Sen. Cory Booker (D-N.J.), which he reintroduced this week.
"We live in a nation that spends more than any other country on health care, yet we still have the highest rate of pregnancy-related deaths of any country in the developed world," Sen. Booker said in a prepared press release. Not only do more mothers die from pregnancy-related causes in the U.S., the growing numbers defy a global trend that has seen maternal mortality rates fall in much of the world.
Speaking on a joint press call with Rep. Pressley on Tuesday afternoon, Booker said the legislation marked "an important and meaningful first step" at addressing the growing problem.
The bills aim to do this by expanding and extending Medicaid coverage for pregnant women and new mothers; currently, Medicaid covers roughly half of all pregnancies in the U.S. If passed, the legislation would extend coverage for new moms from two months to a full year after childbirth and ensure that all expectant and post-partum mothers have full coverage.
The MOMMIES Act would also increase women's access to primary care and women's health providers, and includes increased access to community doula and midwife care, which some studies have shown can reduce high-risk (cesarean and preterm) births.
"Maternal justice is about ensuring that every mom-to-be is listened to and treated with dignity and respect during and after childbirth," Pressley said in a release. "The MOMMIES Act would do just that by promoting a community-based, holistic approach to maternal care that recognizes current disparities in healthcare and critical environmental factors impacting communities."
The legislation comes at a time when maternal mortality—and its disproportionate impact on black mothers—has gained increased attention from lawmakers and the public. Pressley, the first black woman to represent Massachusetts in the House of Representatives, campaigned on the issue and was among the founding members of the Black Maternal Health Caucus in Congress, an initiative led by another black woman politician, Rep. Lauren Underwood (D-Ill.), who is one of the House bills' cosponsors.
In the Senate, Booker's bill is co-sponsored by at least three other Democratic presidential candidates: Sens. Kamala Harris (Calif), Elizabeth Warren (Mass.), and Kirsten Gillibrand (N.Y.).
New research from the Centers for Disease Control and Prevention confirmed deep racial disparities in maternal mortality rates, with black women three times more likely to die from pregnancy-related causes than white women. Disorders related to high blood pressure and cardiovascular disease were the leading contributors for these deaths, researchers found. Sen. Booker noted that for certain states, like his home state of New Jersey, those rates were even higher: there, black mothers are five times more likely to suffer pregnancy-related deaths than white mothers.
And maternal mortality is a threat for black mothers no matter their income level. During a Tuesday press call, Pressley cited the high-risk births of Beyoncé and Serena Williams. The congresswoman also shared how close the issue hit home for her, telling reporters that she never had a chance to meet her paternal grandmother, who died shortly after giving birth to her father's brother.
"The lived experiences of black women demonstrate how racism and trauma directly impacts the health and wellbeing of marginalized communities for generations," Pressley said.
While both Presley and Booker emphasized savings the MOMMIES Act would provide by cutting down on high-risk births and procedures, the upfront cost of the legislation is still unclear. Booker told reporters that the Congressional Budget Office had not yet assessed the legislation but stressed the dire need to correct the country's course on maternal care.
"How do you put a price on the loss of life?" Booker asked.
For her part, Pressley emphasized the need for a big-picture approach to tackling the problem, noting that factors outside hospitals and OB-GYN offices greatly impact healthy pregnancies and births. This is backed up by the CDC's recent research, which found 60 percent of all pregnancy-related deaths could be prevented not just through better health care, communication and support, but through better access to stable housing and transportation.
"We have to be holistic in all of this," Pressley told reporters. "Ultimately this is a matter of health equity and justice, and you'll be hearing more about it."