James Jordan Sr. died eight years ago, and yet the New York City Police Department keeps on barging into his home, demanding that his wife and kids surrender him, the New York Post reports.
Since the man's passing in 2006 at the age of 46, the cops have entered the Jordan family's Brooklyn home more than 12 times. Jordan Sr.'s last arrest was in 1996 for jumping a turnstile. He had three sealed arrests in 1996, the Post notes. And yet the NYPD continues to show up on the regular to turn the house inside out looking for him.
"I tell them over and over, 'James isn't here! He's dead! It's that simple. What's so difficult to understand about that?' " Karen Jordan told the Post.
Tired of the constant invasions—four of them so far this year—that leave her home a mess, the widow ended up taping his death certificate to the door. "I wanted it to be the first thing they saw before they came into my home and flipped it upside down," Jordan said. "I can't hide anyone in my apartment. It's not big enough for that. But they keep coming and insisting that he's in my house."
Jordan has also filed a lawsuit against New York City in Brooklyn federal court, the news site notes.
G/O Media may get a commission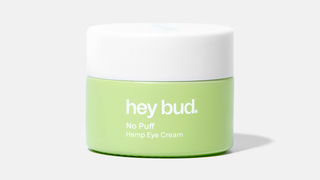 15% off
Hey Bud - No Puff Hemp Eye Cream
"He was a hardworking man, and he took care of eight kids," she said of her deceased husband, who worked as a security guard before he succumbed to diabetes. "It isn't right for them to be coming after him like this. There's no reason for it."
"They tell me to be quiet or they'll lock me up," Jordan added. "So they go through my entire house, turning out drawers, looking in closets, harassing my children and asking them terrible questions."
Her son, James Jordan Jr. was even arrested during one interaction in July when the officers heard his name. "I told them that my father was gone," the 31-year-old said. "They just didn't believe me. When they came in, they came in like a riot team. It was like a raid. Six officers rushed into the apartment and woke me up.
"My dad's spirit is here. But you can't arrest his spirit," Jordan Jr. added. "I just want my dad to rest in peace. Even when you're dead, you still get harassed."
Read more at the New York Post.